Weber® Stainless Steel Cooking Grates - Spirit™ 300

Product Code: 7639

Unfortunately this product is currently unavailable to purchase - we are not sure when we'll have it back in stock.
Sponsored Links
Product Information
Weber Stainless Steel Spirit 300 Cooking Grates can be used to replace the cooking grates on a Weber 300 series Spirit Stainless Steel Barbecue or as an upgrade on a barbecue which is fitted with Porcelain-Enamelled Cast Iron cooking grates.

Cooking grates may become tarnished with use, either from food being burnt onto them leaving residues, or due to environmental factors such as salty seaside air, which may have an adverse effect on the all important taste.

The simple process of replacing the cooking grates can bring the standard of grilling back to how it was when the barbecue was new.
Technical Specification


Stainless Steel Cooking Grates for the Spirit 300 Series with front mounted control knobs and Genesis Silver B/C (pre-2007 models).
Fits: Spirit 300 series, Spirit 700, Genesis® Silver B/C, Genesis® Gold B/C, Genesis® Platinum B/C (2005 model year), and Genesis® 1000-3500 gas barbecues

Please contact us if you are unsure whether these will fit your grill.

Dimensions - 44cm x 29.5cm - set of 2
Replaces 7527.

Dimensions

BBQ Dimensions
Height (cm) -
Width (cm) -
Depth (cm) -
Weight (kg) - 5

Box Dimensions
Height (cm) - 5.7
Width (cm) - 40
Length (cm) - 54.5

Cooking Area
Width (cm) -
Depth (cm) -
Reviews of the Weber® Stainless Steel Cooking Grates - Spirit™ 300
Additional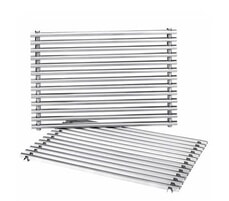 Name: Weber® Stainless Steel Cooking Grates - Spirit™ 300

Description: Weber Stainless Steel Spirit 300 Cooking Grates can be used to replace the cooking grates on a Weber 300 series Spirit Stainless Steel Barbecue or as an upgrade on a barbecue which is fitted with Por

SKU: 7639

Code: 7639

UPC: 077924032226

Brand: Weber

URL: https://www.bbqworld.co.uk/weber-barbecues/replacements/weber-s-s-spirit-300-cooking-grates.asp

Our Price: (£) 119.99

Condition: New

Availability: