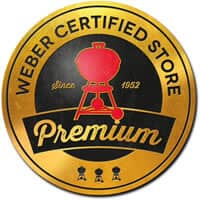 Weber BBQ accessories can improve your grilling experience by making your barbecue easier to light, making cleaning the grill and barbecue easier, or by enhancing the cooking experience.

At BBQWorld we stock and provide a wide range of Weber accessories ranging from barbecue tools and barbecue utensils to covers, replacement grills, and even smoking chips and wood chunks. We provide competitive prices, our expert team can help ensure that you choose the right parts for your model of barbecue, and we offer free delivery on all orders over �50.
Cooking Accessories

Weber BBQ tools offer the same high quality as the barbecues themselves. They are designed for comfort and ease of use. Locking tongs, spatulas, and even pizza wheels make cooking and serving the food easier, and among our range of Weber BBQ accessories you can even find items like oil bottles and grinders. Burger presses and slider presses mean that you can create the perfect food and serve the perfect dish every time. Specialist preparation items like the pizza stone baking tray allow you to create dishes that you wouldn't ordinarily try and tackle using a barbecue.

Lighting And Cleaning

The Weber chimney starter offers an ideal and convenient method of lighting your Weber charcoal barbecue. Fill the chimney with charcoal, light the bottom, and remove the starter. You don't need to saturate the coal with lighter fluid, or ruin the flavour of your food with firelighters. Weber even supply their own brand of charcoal briquettes and lump charcoal, providing hours of great tasting and convenient barbecuing for your needs.

As well as making lighting your barbecue easier, there are Weber BBQ accessories to make cleaning your grill easier too. Brushes, scrapers, and sprayers are all designed to work specifically with your barbecue. Cleaning the grill after each use not only means that you can enjoy better protection from your grill, but it means that you can start grilling quicker during your next barbecue session.

Barbecue Covers

Covers provide further barbecue protection and they prevent rain and the elements from causing damage to your grill. There are both lightweight and heavy-duty barbecue covers available, so whether you have a portable or built in barbecue you can buy a protective cover to look after your Weber investment. Buy a replacement or an upgraded barbecue cover and enjoy total protection for your Weber.

Gas BBQ Accessories

Weber gas barbecues offer convenience and simplicity. They are easy and quick to light, reach a suitable cooking temperature in just a few minutes, and you can buy accessories like smoking chimneys and smoking chips to help give you a more authentic barbecue, grilled flavour. Weber gas BBQ accessories include spare and replacement parts, regulators, as well as cleaning and maintenance kits. A cleaning kit includes a brush to get rid of the debris and burned food that collects, as well as a scraper to first remove harder bits.

Charcoal BBQ Accessories

We have a wide range of Weber BBQ accessories for your charcoal barbecue. Charcoal, firelighters, and charcoal barbecue lighters make lighting your gas BBQ easier and quicker. Cleaning brushes and grill brushes allow you to remove any leftover food and debris.

You can even buy tool holders that can connect to your barbecue and offer convenient storage options for your Weber BBQ utensils like prongs and spatulas. Weber drip trays sit under the burners and collect juices and fat as it drips off your food. Drip trays can help to keep your barbecue clean during cooking which, in turn, makes it easier to clean after use or when you next come to use it.

Weber Q Accessories

The Q series is a range of portable and convenient gas barbecues. They use disposable gas canisters, can be taken on holiday or used when storage and space is at a premium, and despite being portable they offer the same high quality parts and materials as any other Weber.

You can enhance your cooking experience with roasting shields and roasting racks, buy Weber Q Series replacement parts, or you can buy a Q Series portable cart that makes moving and using the barbecue even easier. The stand is designed to hold the gas canister, the barbecue itself, and has wheels so that you can wheel it in and out of the shed or garage as and when required.

Woodchips And Chunks

Gas barbecues are convenient and they are easier to master than charcoal barbecues. You don't have to plan ahead, but many people shy away from using them because they want a genuine, authentic grilling experience that you can only really enjoy with a charcoal barbecue.

Woodchips and smoking chunks, as well as smokers, allow you to add the smoky flavour to your grilled food, even when you use a gas barbecue. Our Weber BBQ accessory range includes woodchips made from different types of wood, providing a range of flavour options for your barbecuing.

Spare Parts

Whether you have a charcoal or gas barbecue, a built-in or one of the portable Q Series of barbecues, things can go wrong. Rather than buying a new barbecue, though, you can buy replacement parts as well as Weber accessories online from BBQWorld.

From gas regulators to lighting handles, our Weber accessories sale includes a selection of replacement parts. Call us today, or call in to Dawson's Department Store, in order to make sure that you choose the right replacement part for your barbecue.

BBQWorld Weber BBQ Accessories

BBQWorld is the official website of Dawson's Department Store. We stock barbecues from some of the biggest names in the industry, including Weber. We also have a large catalogue of Weber BBQ accessories, spares, and replacements, all at competitive prices. Buy our Weber accessories online or from our store, and benefit from competitive prices, as well as free delivery on orders over �50. Enhance or improve your barbecuing experience today.