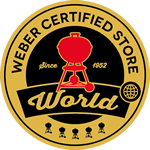 BBQ World stocks the whole range of premium Weber BBQ's. Whether you are looking for a state of the art Gas Weber BBQ or a more traditional Charcoal BBQ, we will be able to supply your needs. All Weber BBQ's are on display in our Weber World Store in Skipton and a large range of barbecues are on display in our Clitheroe store, meaning your chosen barbecue will always be in stock and ready for next day delivery.

Drop in to our Clitheroe or Skipton stores to try out a Weber BBQ for size - we have years of experience in selling these premium products, and can answer any questions you may have. If you can't visit us, just ring with any questions you have, and we can chat through the options with you so that you can order online or over the phone. We are confident that we offer the best prices on Weber barbecues, but if you find one elsewhere any cheaper, we will do our best to price match. Don't forget, every Weber BBQ listed on our site is inclusive of VAT. What you see is what you pay. And with orders over £50, next day delivery is absolutely free. Look out for our BBQ sale items to get your collection started.
Weber has been the leading name in kettle barbecues since the 1950s, and while the range has grown to include a host of different styles, and the brand has become as synonymous with gas barbecues as it has charcoal, the same appealing brand remains. At BBQWorld we have an extensive catalogue of Weber grills, barbecues, and accessories so that you can create incredible meals outdoors.

Charcoal

Charcoal barbecues offer an authentic barbecuing experience, and you won't find more authentic than our Weber BBQ collection. They are designed to look good in your garden, to create great tasting food, and with a 10 year warranty, they are also guaranteed to last.

Choose the size of Weber BBQ according to how many mouths you feed. Smaller models like the Compact 47cm model are perfect when grilling for two or three, while the extra space afforded by the 57cm models means that you can comfortably barbecue for the family. The Performer, while also being a large Weber BBQ model, has the unique feature of a gas ignition. Enjoy the great taste of a charcoal barbecue without the hassle of lighting one.

Original Kettle

No Weber BBQ sale would be complete without mention of the Original Kettle. Available in a 57cm model, the Original Kettle is based on the same design as was first pioneered by founder George Stephen in the early 1950s. Then, the iconic design was crafted in a metal workshop when George cut a metal buoy in half, and while the manufacturing technique has changed, the beneficial shape and the snug fitting metal lid that give Weber BBQs their excellent cooking prowess, haven't changed at all.

If you want a little more luxury, then the Premium version of the Original Kettle BBQ. It includes a hinged cooking grate, an intuitive cleaning system, and a high capacity ash catcher that can be removed for the safe and simple disposal of the charcoal ash.

Portable

The portable Weber BBQ range includes both Smokey Joe and Go Anywhere barbecues. Like all Weber BBQ models, these include a limited 10-year warranty, are made from rust proof and durable materials, and are designed for the best possible barbecuing experience. You can also enjoy additional features like the tuck-n-carry lid holder, which folds away when it isn't needed, as well as weatherproof handles.

A portable Weber BBQ is a great choice if you enjoy camping or caravanning holidays, while the quality means that it would be equally suited as a home barbecue for two. Available in a selection of colours, you can even choose the barbecue that best matches your patio furniture.

Gas

Charcoal barbecues may offer an authentic grilling experience, but they don't offer the same convenience and ease as gas variants. Easy to light, gas barbecues do not require the same wait while they heat up. What's more, you can cook for more people thanks to the larger sizes that are possible when using gas as a cooking medium.

All the standard gas barbecues in the Weber BBQ UK range include a minimum of two burners. Depending on the model you choose, you can also benefit from features like convenient wheels to make moving and storage simpler, bars and grills that can be easily removed for cleaning, and even storage for your utensils and other accessories. Folding side tables make the storing and serving of food even easier too.

Q Barbecues

The Q range is a range of gas barbecues that are smaller in form and easier to move around. They can be use on picnic tables, or you can buy a Q barbecue with stand that is similar in form to that of the charcoal models.

Designed for portability, Q barbecues use either disposable gas canisters (Q1200) or they have a clip on Propane regulator, depending on the model that you choose. Whether you are looking for an outdoor grill that is easy to store in the shed, or a portable Weber BBQ for taking away with you when camping, the Q range is an excellent choice.

Smokers And Firepits

The Smokey Mountain barbecues offer an alternative to standard barbecues, in that they look and operate more like an outdoor oven than an outdoor grill. Complete with a lid thermometer, rust proof components, and a cap for use with your own probe thermometer, they enable you to cook considerably more than the usual barbecue meals.

Another alternative to the standard Weber BBQ is the Weber Fireplace. This firepit design provides warmth as well as a grill on which to cook. Because these fire pits are on legs, it means that you can have a temporary fireplace in the garden, on the beach, or at the camp site, without leaving evidence of a fire.

Accessories

No barbecue is complete without accessories, utensils, and tools. As well as Weber grills, BBQWorld has a large stock of accessories including BBQ covers that are designed specifically for use with Weber grills. We also have the utensils that you will need to prepare the best food. We have woodchips and planks, to enhance the flavour of your food. We have rotisseries to prepare the perfect meat, and we even have Weber cookbooks that really do enable you to make the best tasting grilled food.

Spares

Even with a 10-year warranty, there is the possibility of damage or breakage being caused to your prized Weber BBQ. Fortunately, you can buy spares to replace almost any damaged part, allowing you to continue to enjoy the great tasting food that you have become used to preparing on your Weber. Hose and regulator systems, new handles, and replacement covers are all available from our online store.

Whether you are looking for gas Weber BBQs or charcoal Weber grills, and whether you want accessories like cookbooks or replacement parts like handles and regulators, we have everything you need to ensure that you enjoy a great tasting BBQ and an exceptional outdoor cooking experience.