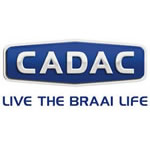 CADAC is a South African company with more than 65 years experience in manufacturing and supplying high quality outdoor barbecues and grills. They offer both charcoal and gas barbecues, including the popular CADAC Safari Chef Grill and have patio and portable versions available.

The CADAC grill is more than just a barbecue, with many of the models incorporating cooking surfaces and accessories into their design. For example, the lid of the Safari chef grill can be used as a wok and you can use accessories like the double sided grill plate, enabling you to prepare virtually any type of food on your BBQ.
The Braai Lifestyle

In South Africa, cooking outside or barbecuing is referred to as Braai, and this has come to mean the whole outdoor dining experience. It is also the name that is often given to the grills or barbecues that are used to cook food on. Although the Braai experience is similar to that of barbecuing in the UK, the better weather and outdoor lifestyle in South Africa means that they have perfected the art.

A CADAC BBQ from BBQWorld enables you to enjoy all of the benefits that this innovative and experienced company has to offer, including modular grill designs and the ability to cook everything from traditional barbecue food to teppanyaki and even fried eggs. Ideal for home use, to take camping, or even to pack up and take to a friend's house, a CADAC grill is best when enjoyed with friends.

The Patio Range
Models like the Braiimaxx and the Meridian are patio barbecues. They are designed for use at home, are typically powered by gas for ease and to enable the preparation of more advanced dishes and meals. Like all CADAC grills, they utilise a modular design which has multiple sections and intelligent design that makes outdoor cooking even easier.

As well as large barbecues with multiple burners and cooking zones, there are more compact models. The CADAC Kettle Chef is a gas version of the traditional charcoal kettle barbecue that is easy to clean, designed to last, and has a lid thermometer so that you can check you've reached the desired cooking temperature and that you are cooking meat at a safe temperature.

Portable

Portable CADAC grill models can be used if you have limited space in your garden, or have little storage space. They are also ideal for taking camping or on holiday with you. Designed for use in the South African outback, the modular systems are designed for portability but they still offer the same great cooking capabilities as the full patio models.

The Carri Chef 2 and Carri Chef Deluxe Combo are 2 of the most popular portable CADAC grills. They are easy to build and the lid means that you can grill or fry with the lid off or bake with the lid on. The Grill 2 Braai is another portable CADAC BBQ with a two-sided non-stick grill plate. One half of the plate is flat for preparing food like pancakes or eggs, while the ribbed half can be used for preparing meat and other traditional barbecue dishes.

The Urban Stratos is a portable outdoor kitchen. It is double skinned, which means that the outside of the grill doesn't get too hot and can still be handled and moved. The dome includes a hood thermometer and a removable drip tray. The Meridian Counter Top is a similar design. Either model can be fitted into a countertop recess, making it a great built-in model if you are limited in space, and you can choose either the 3-burner or 4-burner model.

The Modular System

Most CADAC grill systems utilise a modular design system that allows for increased cooking options. The design means that even the portable models can be used to prepare a wider range of food than a standard barbecue would offer.

The stacking modular system means that you can use additional accessories like Paella pans or even pizza stones to prepare the food you really want to eat, all from the luxury of your back garden or when you're away camping or caravanning.

Accessories

The modular nature of the CADAC BBQ means that there are additional grill plates and other accessories that can further enhance the barbecuing experience. Accessories like the skottle top and the BBQ top are replacement CADAC grill plate models for extending the use of your CADAC BBQ.

Covers, food warmers, and pizza stones allow you to enhance what you cook or to cook more dishes than you normally would. Smoker boxes allow you to use wood chips to give the flavour of a charcoal barbecue from your gas CADAC grill. Chimney starters, on the other hand, offer a means of lighting a gas barbecue without having to use excessive amounts of lighter fluid or firelighters.

CADAC Grill Replacement Parts

As well as being able to buy accessories like covers, you can also buy additional CADAC spares. Buy new regulators as well as replacement gas canisters to ensure that your gas barbecue continues to offer high quality cooking. Replacement tails, assemblies, and hoses can all be easily replaced, which means that you don't have to buy a full replacement barbecue.

Replacement parts are available for both charcoal and gas models. Replace the reversible grill if it becomes damaged, buy a new cover to ensure that your patio CADAC grill continues to enjoy great protection.

CADAC Grills From BBQWorld

CADAC grills are designed for regular and heavy use. They include limited warranties, are manufactured using high quality stainless steel and other durable materials, and the range that is available means that you can cook great tasting food whether you are planning a camping trip or you want an outdoor cooking and dining experience for your home.

BBQWorld offers competitive prices, provides free delivery on orders over £50, and we have a large selection of gas and charcoal, portable and even built-in barbecues. Expand your home dining experience or create the perfect camping food with the South African Braai experience.