Morso Forno Outdoor Ovens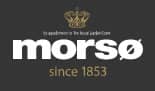 Danish design has been delighting the world for many years now. With a look and feel that is distinctive to Denmark, Morso ovens have a distinctive wow factor.

The quintessential wood-burning stove has always been crafted from cast iron, and it's still the best material for a stove today. Just ask the Danes; they know their wood burners better than anyone.

Cast-iron stoves are timeless. Traditional. Efficient. Cosy. Many people have tried to produce stoves in cheaper, lighter materials but nobody has managed to make a wood-burning stove with the unique properties of cast-iron.
Sponsored Link
Reviews Of Morso Forno Ovens