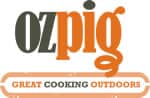 The Ozpig is a clever Aussie invention created by a family with a love of the great outdoors. Hearty appetites and a passion for travel inspired the Shepherd family to develop a unique, multipurpose cooker that offers convenience and endless cooking options. At the same time, they also wanted the ambience of an open fire and a versatile heater that could be used on their outdoor adventures. The result was the Ozpig.

Fire up the fuel-efficient Ozpig using your choice of easy-to-carry fuel including timber, heat beads or volcanic rock. Plus with its Australian heritage, the Ozpig has been built tough to withstand the harshest conditions - with very little maintenance needed. So there's a good chance your Ozpig will outlast you!
As a 100% Australian owned and proud family business we take a personal approach to everything we do. Which is why we choose to sell Ozpig through stockists - and in turn support other local businesses. These handpicked retailers share our passion for Ozpig and our expectation of superior customer service. To find and support your local retailer - and to save on freight - use the map below or click here.

Named after its solid design and squat shape, Ozpig is robust, ingenious and versatile. Plus its raised, off-the-ground design is a game-changer - allowing it to be used in many locations where an open fire is not permitted.

Mounted on stable legs, Ozpig lets you cook up a storm without bending over a campfire, while the compact chimney directs smoke away from the chef. Plus Ozpig is much more flexible than a BBQ, enabling you to enjoy baking, chargrilling, deep-frying, wok cooking, rotisserie roasting or just boiling the kettle for a cuppa.