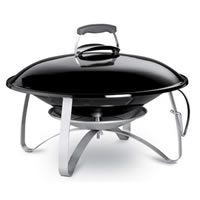 The Weber Fireplace is the perfect addition to your garden or patio. It enables you to provide warmth when entertaining, or simply lets you sit out for longer in the evenings without getting cold. The porcelain enamelled lid and base are not only weatherproof, but they prevent scorch marks that can be created when placing a fire pit or outdoor fireplace on surfaces like grass or patio tables.

You can burn a number of different materials, including lumpwood, briquettes, or Weber Firelogs. The original Weber Fireplace 2013 is a 71cm model, while the revised and improved Weber Fireplace 2014 is a more compact 63cm model. The new model has not only been reduced in size, but it also has a lid holder that enables you to use the enamelled lid as a wind shield for easier lighting. The design of the Weber fire pit means that it is easy to light, safe to use, and can be extinguished easily too.
The Weber Fire Place Design Whether you buy the Weber fireplace 2726 or Weber fireplace 2750, you receive a lightweight weatherproof cover, but you can also buy a heavy-duty Weber fireplace cover that offers even greater protection from the rain, sun, and other elements. The cover is ideal when you need to store your fire pit, and is also handy if you are planning on taking it away with you when camping or caravanning.

High Grade Materials

The Fireplace uses the same high quality American steel, covered with a porcelain enamel coating. This combination means that the outdoor fireplace won't leave scorch marks on the grass. You can use it on beaches, in fields when camping, or you can place it on the ground in your garden without the worry that you will be damaging the surface that it sits on.

A Focal Point

Many of us enjoy sitting out at night, or entertaining friends and family with an outdoor barbecue, but the British weather makes this a challenge. Patio heaters and other outdoor heaters can prove expensive, and cannot usually be stored away when not in use. The Weber Fireplace allows you to sit out for longer, or even on nights when you wouldn't otherwise be able to.

Intuitive Design

Lighting the fireplace is easy, especially if you use Weber Firelogs. Simply light either end of the logs, using the lid as a shield, and put them in the fireplace. When you are ready to call it a night, simply close the lid and it will extinguish the fire with minimal effort. You should always wear gloves when handling the lid, but the resistant materials that the fire pit is made from will help make it easier.

The Weber Range

Weber are well known for producing charcoal and gas barbecues, and the Weber fire pit utilises the same materials and the same high standard of manufacturing in order to create a beneficial and functional focal point for your garden. Its compact and easily transportable design mean that the new Fireplace 2014 is also ideal for taking camping, on family days out, or even round to a friend's house.

BBQWorld Fireplaces

BBQWorld is the official website of Dawson's Department Store. We stock barbecues and fire pits from some of the biggest names in the industry, including Weber. Shop online, call our knowledgeable and friendly team, or visit our store where you will also find the Weber fireplace for sale.