Broil King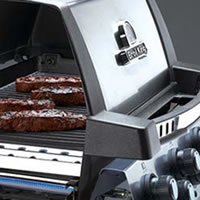 Every Broil King gas grill is built to provide unparalleled cooking versatility. No matter what model you choose, the legendary Broil King cooking system gives you the ability to cook almost anything on your grill in any style you desire.

You can sear steaks to perfection, rotisserie cook poultry or roast, and even bake elaborate desserts.

Every part of the cooking system is designed and engineered for a specific purpose. When combined, the results are simply spectacular. There's no mistaking the Great Flavor you get with Broil King.

Broil King Barbecues are proudly built in North America - Broil King are committed to producing gas barbecues that you can count on for the utmost in performance and built with quality materials for years of durability. Broil King gas grills are manufactured in North American plants located in Huntington Indiana, Dickson Tennessee and Waterloo Ontario.
Browse Broil King BBQ Range
| | |
| --- | --- |
| | Broil King Barbecue Covers designed for the current range of Broil King Barbecues. |

| | |
| --- | --- |
| | Broil King wood chips, planks and smoker boxes. |

| | |
| --- | --- |
| | View our range of Broil King general and everyday barbecue accessories |

| | |
| --- | --- |
| | Reversible cast iron griddles for Broil King gas grills. Matte porcelain coated. Use in place of 1 cooking grid section. |

| | |
| --- | --- |
| | Accessories designed specifically for the Broil King KEG charcoal barbecue. |

| | |
| --- | --- |
| | Broil King replacement parts including regulators, flav-r-wave bars and cooking grids. |
HOT BROIL KING BBQ OFFERS
Latest Customer Broil King BBQ Reviews
Broil King Keg 5000






Awesome bbq

on 30/5/17
By :

Brian Lampard




Simply the finest bbq/smpker i have had the pleasure of cooking on robust build quality simple to use and brilliant heat and temperature control make this one of the very best wether your searing your steaks at 450 or low n slow on your brisket at around 220this thing can handle both with ease recommended piece of kit.
Broil King Baron 490






Fantastic

on 10/3/16
By :

Mike Palmer




This is the best BBQ I have ever owned and great to cook on - nice workmanship and a great looker the rotisserie is a brilliant addition were you can walk away and leave things cooking nice and slow ive had 5 BBQs now - other brands but this is the STAR