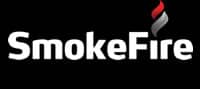 Weber SmokeFire Pellet Grills - Not everyone has the time to enjoy charcoal barbecues but they still want that authentic barbecue flavour. Gas barbecues has made leaps and bounds in making sure that authentic taste can be recreated with gas but some purists demand more.

Weber has answered their calls with their new SmokeFire. Utilising the convenience of gas and precision high tech electronics a Weber has created the perfect blend to create that authentic, delicious charcoal barbecue taste.
Weber has 60 years' experience creating some of the world's best known and most loved barbecues. At BBQWorld we are proud to bring you a wide selection of Weber gas BBQ models. Every Weber gas barbecue includes a 10-year limited warranty, is made from long-lasting and durable materials that are built to last and designed to offer the best possible outdoor cooking experience, and there is a huge selection to choose from so that you can find the model that best meets your needs.

Weber Gas Barbecues
To some, it is a contentious issue - are charcoal or gas barbecues best. On the one hand, charcoal is considered to give the more authentic flavour and aroma. On the other hand, gas barbecues light instantly, require less time to warm up before you can cook on them, and the heat can more easily be modified which enables you to create more complex dishes and foods. Fortunately, the leading name in barbecues has both charcoal and gas models to offer, and if you want convenience and improved features, then a Weber gas BBQ from BBQWorld has the features you're looking for.

As well as the standard Weber gas BBQ, there are portable models that are perfect camping or large, multi-burner barbecues that you can use to feed the extended family or when entertaining friends. There is even the Q range, which is both portable and powerful, and comes with either disposable gas canisters or a standard gas canister connection.

Weber Pellet Grills
Weber are fairly new into the pellet grill market but do not take that to mean their equipment will be anything less than top notch. Weber is one of the oldest players in the barbecue game and all their equipment is meticulosuly thought out, designed, built and tested.
Shop with BBQWorld today and enjoy some of the best gas BBQ models on the market. Weber have been making barbecues for more than 60 years, and their experience shows in every model available. Enjoy competitive prices, free next day delivery on most orders, and you can even call into either of our Dawson's Department Stores to try out the barbecue before you buy, or to ask our team any questions you might have.