Weber® Porcelain Enamelled Flavorizer™ Bars - Spirit™ 200

Product Code: 7635

Unfortunately this product is currently unavailable to purchase - we are not sure when we'll have it back in stock.
Sponsored Links
Product Information
The Weber Porcelain-enamelled Spirit 200 Series Flavourizer Bars are a replacement for tired and worn out bars on a Weber Spirit 200 Series 2 burner grill to re-invigorate it's grilling performance.

Suitable for Spirit 200 Series 2 Burner Grills from 2013 and later with front mounted controls.
Technical Specification


Porcelain-enamelled
Fits Weber Spirit 200 series with front-mounted controls (2013 and later)
Porcelain-enamelled Flavorizer bars
For 2 Burner Weber Spirits
Set of 3
Length - 38.7 cm

Dimensions

BBQ Dimensions
Height (cm) -
Width (cm) -
Depth (cm) -
Weight (kg) - 1.8

Box Dimensions
Height (cm) - 15.7
Width (cm) - 13.2
Length (cm) - 44.5

Cooking Area
Width (cm) -
Depth (cm) -
Reviews of the Weber® Porcelain Enamelled Flavorizer™ Bars - Spirit™ 200
Additional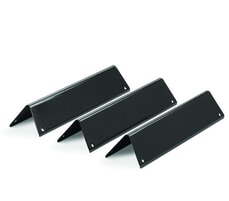 Name: Weber® Porcelain Enamelled Flavorizer™ Bars - Spirit™ 200

Description: The Weber Porcelain-enamelled Spirit 200 Series Flavourizer Bars are a replacement for tired and worn out bars on a Weber Spirit 200 Series 2 burner grill to re-invigorate it's grilling performance.
SKU: 7635

Code: 7635

UPC: 077924032165

Brand: Weber

Our Price: (£) 50.39

Condition: New

Availability: Out Of Stock

URL: https://www.bbqworld.co.uk/weber-barbecues/replacements/weber-pe-spirit-2-burner-flavourizer-bars-3-of.asp