Weber® Griddle- Cast Iron Fits Spirit™ 300 series

Product Code: 7598

Unfortunately this product is currently unavailable to purchase - we are not sure when we'll have it back in stock.
Sponsored Links
Product Information
The Weber Spirit 300 Series Cast Iron Griddle fits Spirit 3 burner models 2013 and onwards, for models with their controls at the front, to give a really simple and easy way to increase the grilling options for a Weber Spirit 300 series gas barbecue.

Lift out one of the cooking grates, left or right, which the barbecue is shipped with and put the porcelain enamelled cast iron griddle in it's place, with the smooth side up or ridged side up to according to your grilling needs.

Once in position the griddle can easily be taken out or flipped over to give a flexible range of grilling options.
Technical Specification


Fits all 2013 or later Spirit 300 Models (which have control knobs on the front).
Porcelain enamelled cast iron griddle

Dimensions

BBQ Dimensions
Height (cm) -
Width (cm) -
Depth (cm) -
Weight (kg) - 9.5

Box Dimensions
Height (cm) - 21.6
Width (cm) - 47
Length (cm) - 83.8

Cooking Area
Width (cm) -
Depth (cm) -
Reviews of the Weber® Griddle- Cast Iron Fits Spirit™ 300 series
Additional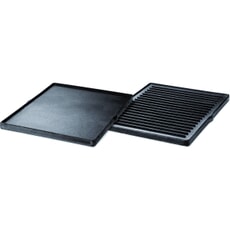 Name: Weber® Griddle- Cast Iron Fits Spirit™ 300 series

Description: The Weber Spirit 300 Series Cast Iron Griddle fits Spirit 3 burner models 2013 and onwards, for models with their controls at the front, to give a really simple and easy way to increase the grilling o
SKU: 7598

Code: 7598

UPC: 077924019142

Brand: Weber

Our Price: (£) 94.75

Condition: New

Availability: In Stock

URL: https://www.bbqworld.co.uk/weber-barbecues/accessories/weber-spirit-300-griddle-2013-models.asp