WeberŪ Rib Rack

Product Code: 6605

Price £17.09
RRP: £18.99 - Save 10%


In Stock : Yes - Currently in stock online - only 1 available!


Sponsored Links
Product Information
The WeberŪ Rib Rack is a plated steel Rib Rack which supports 5 slabs of ribs upright for even cooking and easy sauce application. The flexible design holds everything from small baby back ribs to larger beef ribs.
Technical Specification


Fits - WeberŪ Q 200/2000 and larger gas barbecues, and 47cm and larger charcoal barbecues
Holds up to 5 racks of ribs, increasing barbecuing capacity
Dishwasher safe
Dimensions -
H 8.89 cm x W 20.32 cm x D 33.53 cm

Dimensions

BBQ Dimensions
Height (cm) -
Width (cm) -
Depth (cm) -
Weight (kg) - 0.8

Box Dimensions
Height (cm) - 2.9
Width (cm) - 26.6
Length (cm) - 36.7

Cooking Area
Width (cm) -
Depth (cm) -
Reviews of the WeberŪ Rib Rack
Additional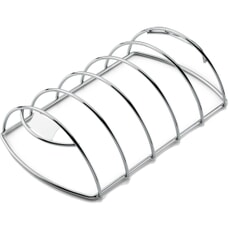 Name: WeberŪ Rib Rack

Description: The WeberŪ Rib Rack is a plated steel Rib Rack which supports 5 slabs of ribs upright for even cooking and easy sauce application. The flexible design holds everything from small baby back ribs to lar
SKU: 6605

Code: 6605

UPC: 077924021886

Brand: Weber

Our Price: (£) 17.09

Condition: New

Availability: In Stock

URL: https://www.bbqworld.co.uk/weber-barbecues/accessories/weber-original-rib-rack.asp