WeberŪ Premium Grilling Basket - Small

Product Code: 6677

Unfortunately this product is currently unavailable to purchase - we are not sure when we'll have it back in stock.
Sponsored Links
Product Information
The WeberŪ Grilling Basket - Small can be used for roasts, grilling vegetables or anything else that you may need to keep together, stopping it falling through the grates, while cooking on the cooking grate of your charcoal or gas barbecue.

Constructed from stainless steel, for strength and ease of cleaning, with a specially designed pattern of vents to maximise the heat through put whilst allowing cooking juices to flow through back onto the barbecue for flavouring.
Technical Specification


Fits - all WeberŪ barbecues
Stainless steel
Ideal for vegetables and smaller pieces of meat
Unique patented design prevents warping
Dishwasher safe
Dimensions -
L 26.92 cm x W 18.8 cm x H 2.79 cm

Dimensions

BBQ Dimensions
Height (cm) -
Width (cm) -
Depth (cm) -
Weight (kg) - 1

Box Dimensions
Height (cm) - 1.43
Width (cm) - 28
Length (cm) - 34.3

Cooking Area
Width (cm) -
Depth (cm) -
Reviews of the WeberŪ Premium Grilling Basket - Small
Additional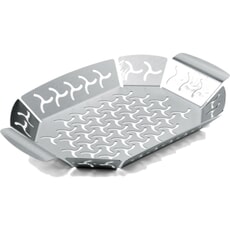 Name: WeberŪ Premium Grilling Basket - Small

Description: The WeberŪ Grilling Basket - Small can be used for roasts, grilling vegetables or anything else that you may need to keep together, stopping it falling through the grates, while cooking on the cooking
SKU: 6677

Code: 6677

UPC: 077924018985

Brand: Weber

Our Price: (£) 19.74

Condition: New

Availability: In Stock

URL: https://www.bbqworld.co.uk/weber-barbecues/accessories/weber-original-medium-grill-basket.asp