WeberŪ Griddle for GenesisŪ 300 Series

Product Code: 7566

Price £94.99
RRP: £99.99 - Save 5%


Availability : 3-5 Days

This item is not currently in stock however we are expecting them shortly!


Sponsored Links
Product Information
The Weber Genesis Griddle is a reversable cast iron griddle for Weber Genesis gas barbecues

Simply remove one of the cooking grates and replace with the griddle to expand the range of grilling options available. Use the smooth side for cooked breakfasts or the ridged side when it is preferable for the food to sit above any cooking juices.
Technical Specification


Weber Cast Iron Griddle for 2011 or later Genesis Models only.




*PLEASE NOTE*


This griddle will NOT fit any 2007-2010 Genesis Models


(Models with Control Knobs on the side shelf)

This does not fit the Genesis II series.

Dimensions

BBQ Dimensions
Height (cm) -
Width (cm) -
Depth (cm) -
Weight (kg) - 7.94

Box Dimensions
Height (cm) -
Width (cm) -
Length (cm) -

Cooking Area
Width (cm) -
Depth (cm) -
Reviews of the WeberŪ Griddle for GenesisŪ 300 Series
Additional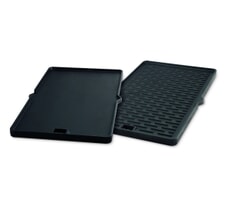 Name: WeberŪ Griddle for GenesisŪ 300 Series

Description: The Weber Genesis Griddle is a reversable cast iron griddle for Weber Genesis gas barbecues

Simply remove one of the cooking grates and replace with the griddle to expand the range of gri
SKU: 7566

Code: 7566

UPC: 077924008290

Brand: Weber

Our Price: (£) 99.99

Condition: New

Availability: PreOrder

URL: https://www.bbqworld.co.uk/weber-barbecues/accessories/weber-griddle-for-genesis-300-series.asp