Weber® GBS™ Pizza Stone Insert with Carry Rack

Product Code: 8836

Price £55.85
RRP: £58.79 - Save 5%


In Stock : Yes - Currently in stock online - More than 50 available


Sponsored Links
Product Information
The Weber Original GBS Pizza Stone is a brilliant way to cook pizza, shop bought or home made, or flatbreads on any Weber Spirit, Genesis, Summit 4 Burner, Summit 6 Burner or 57cm charcoal barbecue which has Original GBS cooking grates.

The Weber Original GBS Pizza Stone has been designed to replicate the effect of a stone pizza oven as the corderite pizza stone absorbs heat to create an extremely hot surface to give pizzas a crisp base making rapidly cooked, flavoursome pizzas.

The pizza stone complete with support handles making the fitting and removing of the pizza stone from the centre of the GBS cooking grate both safe and easy.
Technical Specification


Built for use with Weber Gourmet BBQ System cooking grates
Corderite pizza stone
Cordierite stone absorbs moisture for light and crispy thin crust pizza
Carry rack makes transporting the pizza quick and easy
Fits into the GBS cooking grate so that it stays in place while barbecuing
Brush clean and rinse with water - do not use soap
Pizza stone diameter - 34cm
Dimensions -
H 5.08cm x W 33.53cm x D 42.42cm

Dimensions

BBQ Dimensions
Height (cm) -
Width (cm) -
Depth (cm) -
Weight (kg) - 3.4

Box Dimensions
Height (cm) - 40.3
Width (cm) - 6.7
Length (cm) - 39.1

Cooking Area
Width (cm) -
Depth (cm) -
Reviews of the Weber® GBS™ Pizza Stone Insert with Carry Rack
Additional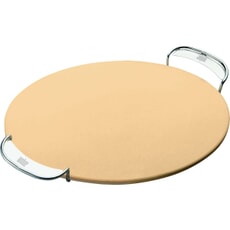 Name: Weber® GBS™ Pizza Stone Insert with Carry Rack

Description: The Weber Original GBS Pizza Stone is a brilliant way to cook pizza, shop bought or home made, or flatbreads on any Weber Spirit, Genesis, Summit 4 Burner, Summit 6 Burner or 57cm charcoal barbecue wh
SKU: 8836

Code: 8836

UPC: 077924013287

Brand: Weber

Our Price: (£) 55.85

Condition: New

Availability: In Stock

URL: https://www.bbqworld.co.uk/weber-barbecues/accessories/weber-gourmet-bbq-pizza-stone.asp