Everdure by Heston Blumenthal Premium Tweezer Long

Product Code: HBTWEEZERL

Price £30.39
RRP: £31.99 - Save 5%


In Stock : Yes - Currently in stock online - only 7 available!


Sponsored Links
Product Information
The everdure by heston blumenthal Premium Tweezer Long are a set of stylish tongs which have been created so delicate or smaller food items can be moved around the cooking grates with more precision than with a conventionally sized set of tongs when they are being barbecued.

These premium grade brushed stainless steel tweezers feature an ergonomically shaped heat resistant soft grip handle plus have a hanging loop for stowage.
Technical Specification


Brushed stainless steel tweezers
Premium build w/ soft grip handle
2mm thick gauge
Dimensions -
397 mm x 31 mm x 47 mm

Dimensions

BBQ Dimensions
Height (cm) -
Width (cm) -
Depth (cm) -
Weight (kg) - 1

Box Dimensions
Height (cm) -
Width (cm) -
Length (cm) -

Cooking Area
Width (cm) -
Depth (cm) -
Reviews of the Everdure by Heston Blumenthal Premium Tweezer Long
Additional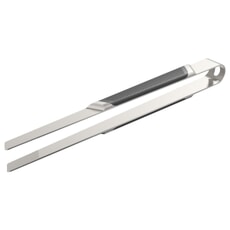 Name: Everdure by Heston Blumenthal Premium Tweezer Long

Description: The everdure by heston blumenthal Premium Tweezer Long are a set of stylish tongs which have been created so delicate or smaller food items can be moved around the cooking grates with more precision t
SKU: HBTWEEZERL

Code: HBTWEEZERL

UPC: 9312646027428

Our Price: (£) 30.39

Condition: New

Availability: In Stock

URL: https://www.bbqworld.co.uk/everdure/everdure-by-heston-blumenthal-premium-tweezer-long.asp