Cobb Compact PRO - Black Mesh

Product Code: COBBC0-BK
Sponsored Links
Product Information
The Cobb Compact PRO - Black Mesh is called Compact as it has a compressed height in comparison to all other Cobb models so is the ideal Cobb for those with limited space, both at home and when travelling.

The Cobb Compact PRO - Black Mesh boasts all the same abilities as the Cobb Premier and Pro just in a smaller, more portable package.

The distinctive stainless steel and balck mesh design is sturdy and safe being built to last at the same time as offering uncompromising cooking style anywhere that it is capable of being transported to.

It is compatible with most dishwashers being made from high grade hygienic stainless steel.

The double skinned design ensures that heat is contained on the inside of the Cobb Compact PRO - Black Mesh making it cool to the touch on the outside of the base making it ideal for use in confined spaces, when in a well ventilated area, where heat damage cannot be risked such as boats.
Technical Specification


Convenient & easy to use.
Use with the Cobb Cobblestones, briquettes or lumpwood charcoal
Truly portable, use it almost anywhere
Healthy cooking with no flare ups
Safe to handle - the base stays cool whilst cooking
Made from high grade hygienic stainless steel - all parts are dishwasher safe, except the black mesh base which just needs wiping down
Guaranteed quality - 2 year warranty
Black mesh base unit
Stainless steel Inner bowl and Fire basket
General purpose teflon coated grill plate
Stainless steel dome
General purpose lifting handle
Instruction booklet

Dimensions -
Weight - 3.2 kg approx
Width 33 cm Height 28 cm
Width 33 cm Height 22 cm (Dome inverted)

Dimensions

BBQ Dimensions
Height (cm) - 28
Width (cm) - 33
Depth (cm) - 33
Weight (kg) - 3.2

Box Dimensions
Height (cm) -
Width (cm) -
Length (cm) -

Cooking Area
Width (cm) -
Depth (cm) -
Reviews of the Cobb Compact PRO - Black Mesh
Additional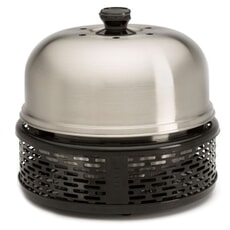 Name: Cobb Compact PRO - Black Mesh

Description: The Cobb Compact PRO - Black Mesh is called Compact as it has a compressed height in comparison to all other Cobb models so is the ideal Cobb for those with limited space, both at home and when travel

SKU: COBBC0-BK

Code: COBBC0-BK

UPC: 6009688701418

URL: https://www.bbqworld.co.uk/cobb/cobb-compact-pro-black-mesh-bbq.asp

Our Price: (£) 112.99

Condition: New

Availability: In Stock