Cadac 2 Cook 2 Pro Deluxe Gas BBQ

Product Code: 202-20
Sponsored Links
Product Information
The Cadac 2 Cook Deluxe is a lightweight low pressure gas stove which can be powered using a flexible range of options when the correct hose and regulator is purchased or can be connected directly into a caravan or motorhome gas supply with correct separately purchasable adaptor.

The compact size makes the 2 Cook Deluxe an ideal option for camping or caravanning or any on the go adventures as there is a carry bag with shoulder strap, with a separate compartment for the two grill plates, included.

The two burners both have a easy to light piezo ignition to help offer versatile cooking options using each independent non-stick ribbed or flat grill plate which give a quicker heat up time with the option of grilling and frying with a pot being able to be heated on the pot stand at other side at the same time.

The flat plate is ideal for cooking fish, breakfasts and pancakes whilst the ribbed plate is ideal for grilling meat, fish, chicken and vegetables.
Technical Specification


Will run on refillable gas bottle, Cadac Power Pak or EN417 disposable gas canister with correct separately purchasable adaptor or can be connected directly into a caravan or motorhome gas supply with correct separately purchasable adaptor

Hose and Regulator NOT included.

Total heat output - 4 kW
Total average gas consumption - 291 g/h
Average operating pressure - 28-37/50 mBar
Steel powder coated lid
Stainless steel burner, flame tamer and fat pan
Nylon body and stainless steel base
Nylon plastic control knobs
2 enamelled pot stands
2 grill plates - 1 flat and 1 ribbed
- 1 x Flat plate (25 x 25 cm)
- 1 x Ribbed plate (25 x 25 cm)
- 2 x Potstand (25 x 25 cm)
Easy to light piezo ignition
Rubber feet to prevent slipping
Includes storage bag with shoulder strap

Dimensions

BBQ Dimensions
Height (cm) - 10
Width (cm) - 57
Depth (cm) - 32
Weight (kg) - 5

Box Dimensions
Height (cm) - 60
Width (cm) - 50
Length (cm) - 35

Cooking Area
Width (cm) - 25
Depth (cm) - 50
Reviews of the Cadac 2 Cook 2 Pro Deluxe Gas BBQ
Additional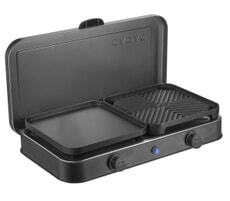 Name: Cadac 2 Cook 2 Pro Deluxe Gas BBQ

Description: The Cadac 2 Cook Deluxe is a lightweight low pressure gas stove which can be powered using a flexible range of options when the correct hose and regulator is purchased or can be connected directly int

SKU: 202-20

Code: 202-20

UPC: 6001773108751

URL: https://www.bbqworld.co.uk/cadac/cadac-2-cook-deluxe.asp

Our Price: (£) 115

Condition: New

Availability: In Stock