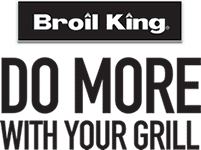 Broil King's Do More system really is just that. Do More with your BBQ. Breakfast, Lunch and Dinner all on one grill.

Did somebody say scrambled eggs? No problem with a Do More griddle plate. Stir fry for lunch? There is a wok ready for that. Ribs for dinner? Get them straight into the Do More Rib Roaster.

Do More is all about maximising your investment on your new Broil King and enjoying the experience of cooking outdoors as often as you can.