Broil King Cast Iron Grids (2) For 50k BTUs Models

Product Code: 11219

Price £96.25
RRP: £106.95 - Save 10%


In Stock : Yes - Currently in stock online - only 1 available!


Sponsored Links
Product Information
The heavy mass of the cast iron grids absorbs heat and provides unsurpassed searing performance to lock in natural juices of food on the grill.

Some chipping may occur if mishandled though this will not affect the use or performance of the grids.

If some rust appears remove the rust with a scrub pad and coat the grid with cooking oil.
Technical Specification


2 x Cast Iron grids
Dimensions -
36cm x 31cm
Fully reversible

Dimensions

BBQ Dimensions
Height (cm) -
Width (cm) -
Depth (cm) -
Weight (kg) - 5

Box Dimensions
Height (cm) -
Width (cm) -
Length (cm) -

Cooking Area
Width (cm) -
Depth (cm) -
Reviews of the Broil King Cast Iron Grids (2) For 50k BTUs Models
Additional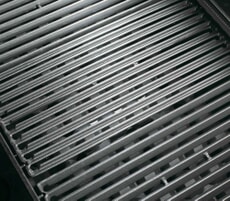 Name: Broil King Cast Iron Grids (2) For 50k BTUs Models

Description: The heavy mass of the cast iron grids absorbs heat and provides unsurpassed searing performance to lock in natural juices of food on the grill.

Some chipping may occur if mishandled tho
SKU: 11219

Code: 11219

UPC: 626821112199

Our Price: (£) 96.25

Condition: New

Availability: In Stock

URL: https://www.bbqworld.co.uk/broil-king/broil-king-cooking-grids-for-50k-btu.asp