Tips on barbecue efficiency
Date Created: 4/10/16
If you are of a certain breed of Barbecuer you will believe that all Barbecues should be coal. It gives off an intense heat, the flare ups create this amazing aroma and taste to whatever is on the grill and it is just the 'way it has always been done', but then there is the efficiency of gas, the speed at which we can cook, the control, the temperatures and the 'flavouriser' bars that send the same kind of heat up. Quite a predicament! Here are a couple of ways you can have the best of both worlds: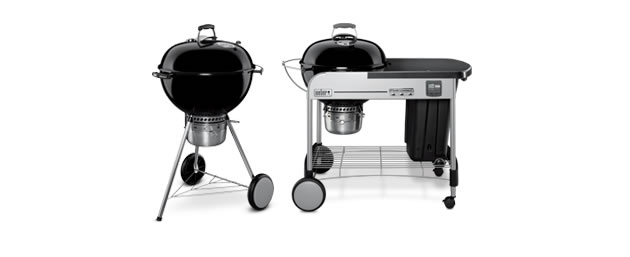 1. Chimney Starter
The way it works is simple, you load coals in the top of the chimney and alight a couple of lighters underneath, the design allows air to flow freely and create perfect cooking temperatures within 10 minutes. You then just pour the coals into your BBQ and start cooking. Check out our range here
2. Use GOOD coal!
Yes there is such a thing as good coal! It tends to be denser than some coal that people use, this means a longer, steadier and more controlled burn. Check out the Weber Briquettes as a great example.
3. Use Air Flow Vents
Too many people don't use the airflow vents on their BBQ to great enough effect, you CAN have the control of Gas with any good quality charcoal Barbecue because you can control the airflow and consequently the temperature and burn rate of the coals! Be careful they get hot. Just check out the Weber Performer and how much control you can have: http://www.bbqworld.co.uk/weber-barbecues/charcoal/weber-performer-gbs-57cm.asp
4. Cook in different ways
There is so much more to Barbecuing than just grilling, use fire basket fuel holders to create indirect heat and use your BBQ as more of an oven or a rotisserie for a long slow cook. Accessories such as warming racks take possibilities even further!!!
5. Plan and Clean
This is all about the user keep the BBQ clean from soot and debris (there is no point opening blocked air vents) and plan your meals or menu to make the most out of your own BBQ set-up and cooking preference.
Whether you are new or highly experienced, we have a wealth of knowledge and product to help you with your BBQ adventures, we'd love to hear about them so why not Follow us on Facebook, Twitter or Instagram and share your culinary journey. Happy Eating!