Weber Char-Basket Fuel Holders

Product Code: 7403
Sponsored Links
Product Information
Weber Char-Basket Fuel Holders are made of durable aluminized steel helping make indirect cooking cleaner, simpler and more convenient.

Simply move the char baskets together in the middle of the barbecue for direct cooking of burgers, steaks etc or move to the sides of the barbecue for indirect cooking of chickens, roasts or other things which do not need direct heat to cook them.

The Weber Char-Basket Fuel Holders will hold coals or briquettes plus are ideal for holding wood chunks over the coals for adding additional flavours.

Can be used with all Weber 57cm Charcoal Barbecues.
Technical Specification


Fits WeberŽ 57cm Charcoal Barbecues and up
Set of 2 pieces
Aluminised steel baskets
Use heat resistant mitts and long handled tongs when moving Char Basket.

Dimensions

BBQ Dimensions
Height (cm) -
Width (cm) -
Depth (cm) -
Weight (kg) - 0.1

Box Dimensions
Height (cm) - 0.01
Width (cm) - 32
Length (cm) - 32

Cooking Area
Width (cm) -
Depth (cm) -
Reviews of the Weber Char-Basket Fuel Holders
Additional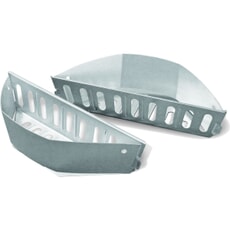 Name: Weber Char-Basket Fuel Holders

Description: Weber Char-Basket Fuel Holders are made of durable aluminized steel helping make indirect cooking cleaner, simpler and more convenient.

Simply move the char baskets together in the middl

SKU: 7403

Code: 7403

UPC: 077924073830

Brand: Weber

URL: https://www.bbqworld.co.uk/weber-barbecues/accessories/weber-char-basket-fuel-holders.asp

Our Price: (£) 23.84

Condition: New

Availability: In Stock