Weber Ash Catcher - Weber 47cm Charcoal Barbecue

Product Code: 7406

Unfortunately this product is currently unavailable to purchase - we are not sure when we'll have it back in stock.
Sponsored Links
Product Information
The Weber Ash Catcher 47cm will replace the ash catcher from Weber Compact and One Touch Original 47cm barbecues.
The ash catcher can become damaged from knocks and crashes from moving the barbecue around or tarnished and dirty from hot ash falling onto it when the barbecue is being used.
If this has happened the 47cm ash catcher is the ideal way to bring your barbecue back up to scratch.
Technical Specification


Weber Ash Catcher for 47cm

Ash catcher kit contains (1) ash catcher for an 18-1/2" charcoal grill, (3) ash catcher clips, and (2) hub caps. Kit fits 18-1/2" Bar-B-Kettle, 18-1/2" One-Touch® (prior to 2000 model year), and 18-1/2" One-Touch® Silver charcoal grills.

Dimensions

BBQ Dimensions
Height (cm) -
Width (cm) -
Depth (cm) -
Weight (kg) - 0.46

Box Dimensions
Height (cm) -
Width (cm) -
Length (cm) -

Cooking Area
Width (cm) -
Depth (cm) -
Reviews of the Weber Ash Catcher - Weber 47cm Charcoal Barbecue
Additional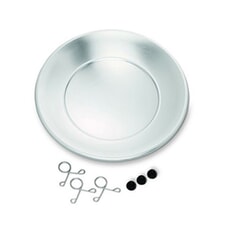 Name: Weber Ash Catcher - Weber 47cm Charcoal Barbecue

Description: The Weber Ash Catcher 47cm will replace the ash catcher from Weber Compact and One Touch Original 47cm barbecues.
The ash catcher can become damaged from knocks and crashes from moving the bar

SKU: 7406

Code: 7406

UPC: 80673

Brand: Weber

URL: https://www.bbqworld.co.uk/weber-barbecues/replacements/weber-ash-catcher-for-47cm.asp

Our Price: (£) 16.99

Condition: New

Availability: