WeberŪ Premium Locking Tongs - Stainless Steel

Product Code: 6610

Unfortunately this product is currently unavailable to purchase - we are not sure when we'll have it back in stock.
Sponsored Links
Product Information
The Weber Original Stainless Steel Locking Tongs are another well thought piece from Weber's Original Accessories range.

Made from stainless steel, for both lifespan and ease of cleaning, with an ergonomically shaped soft touch handle, complete with hanging loop, the tongs are curved to hold foods more successfully aided by the the softly sprung locking mechanism.
Dimensions

BBQ Dimensions
Height (cm) -
Width (cm) -
Depth (cm) -
Weight (kg) - 0.7

Box Dimensions
Height (cm) - 51.1
Width (cm) - 7.3
Length (cm) - 11.4

Cooking Area
Width (cm) -
Depth (cm) -
Reviews of the WeberŪ Premium Locking Tongs - Stainless Steel
Additional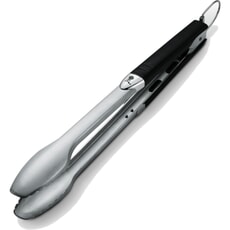 Name: WeberŪ Premium Locking Tongs - Stainless Steel

Description: The Weber Original Stainless Steel Locking Tongs are another well thought piece from Weber's Original Accessories range.

Made from stainless steel, for both lifespan and ease of cleaning,
SKU: 6610

Code: 6610

UPC: 077924011382

Brand: Weber

Our Price: (£) 25.19

Condition: New

Availability: Out Of Stock

URL: https://www.bbqworld.co.uk/weber-barbecues/accessories/weber-original-stainless-steel-locking-tongs.asp