Weber Disposable Gas Canister - Q/Performer/Go-Anywhere Gas

Product Code: 26100

Unfortunately this product is currently unavailable to purchase - we are not sure when we'll have it back in stock.
Sponsored Links
Product Information
The Weber Disposable Gas Canister 445g, with it's EN417 Valve, is the gas canister for use with your Weber BabyQ Q100/Q120/Q1000/Q1200 barbecue giving up to 3 hours grilling time.

The Weber Disposable Gas Canister will power a Go-Anywhere Gas plus is also the power source for the gas ignition fitted in the Weber Performer Deluxe charcoal barbecues.

The gas canister uses a standard EN417 fitting so that it can be used to power any barbecue, such as those in the Cadac range and a Naploloeon TQ285, or camping stove which is compatable with the EN417 fitting.
Technical Specification


THESE CANISTERS DO NOT FIT THE WEBER Q2200 OR Q3200 BARBEQUES.

Disposable Propane Canisters suitable for the Q1000, Q1200 and the ignition on Performer and Go-Anywhere Gas or Performer Deluxe Models.

1 disposable canister 445g

Dimensions

BBQ Dimensions
Height (cm) -
Width (cm) -
Depth (cm) -
Weight (kg) - 6

Box Dimensions
Height (cm) - 16
Width (cm) - 10
Length (cm) - 10

Cooking Area
Width (cm) -
Depth (cm) -
Reviews of the Weber Disposable Gas Canister - Q/Performer/Go-Anywhere Gas
Additional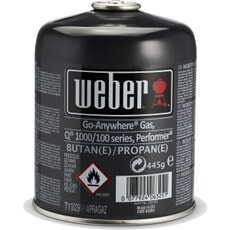 Name: Weber Disposable Gas Canister - Q/Performer/Go-Anywhere Gas

Description: The Weber Disposable Gas Canister 445g, with it's EN417 Valve, is the gas canister for use with your Weber BabyQ Q100/Q120/Q1000/Q1200 barbecue giving up to 3 hours grilling time.

The W

SKU: 26100

Code: 26100

UPC: 0077924089862

Brand: Weber

URL: https://www.bbqworld.co.uk/weber-barbecues/accessories/weber-gas-canister-q100-performer.asp

Our Price: (£) 9.99

Condition: New

Availability: