Weber® Briquettes 4kg

Product Code: 17590
Sponsored Links
Product Information
Weber have worked long and hard to create their briquettes working on both their composition and shaping to engineer their most efficient fuel to date.

From the design to the manufacture and the performance the Weber Briquettes 4kg have been tried and tested, with the results analysed for possible improvements, at each stage of the process by Weber to ensure optimum grilling results from each briquette.

The briquettes are manufactured in Europe from untreated waste wood and have a FSC certification as being environmentally responsible. After the carbonised waste wood is pressed into shape the resulting briquette is then bound in a natural binder so there is no taste taint to the food as no toxic chemicals have been used in the manufacturing process.

Weber's research has led them to create a distinctive pillow shape for the Weber Briquettes 4kg which then have two parallel grooves running across the surface to channel air around the briquettes for optimal airflow meaning that they light faster and more evenly to create briquettes which are ready to cook with in 20 minutes.

The Weber Briquettes 4kg are precision manufactured to ensure that each briquette is the same size with this consistency allowing heat to distribute evenly maintaining an uniform and controlled temperature for cooking.

The larger size and shape ensure that fewer briquettes will be needed so that a more cost effective way to grill is also achieved as each briquete will give off consistent heat for up to 3 hours effectively delivering both high heat for searing and lower heat levels for low and slow cooking.

The Weber Briquettes 4kg are contained with in heavy weight bags which are then packed into a cardboard box for protection in transit with the courier.

On occasions the bag can spilt during transit and whilst no briquettes will be lost due to the cardboard box we strongly recommend the box is opened in an area where any dust from the briquettes will not cause damage.
Technical Specification


Ready to use in 20 minutes
Made from waste wood - DIN and TÜV certified
3 hours burning time
100% natural
WARNING
Carbon Monoxide hazard
Never ignite and use indoors
Store in a cool dry space away from other inflammable products
Use at a safe distance from inflammable products
After cooking remove the dome and grill plate to allow to burn out away from children & animals
Be sure the ashes are completely burnt out before discarding in refuse bin away from children & animals
Can only ship to UK Mainland

Dimensions

BBQ Dimensions
Height (cm) -
Width (cm) -
Depth (cm) -
Weight (kg) - 4

Box Dimensions
Height (cm) - 50
Width (cm) - 13
Length (cm) - 23

Cooking Area
Width (cm) -
Depth (cm) -
Reviews of the Weber® Briquettes 4kg
Additional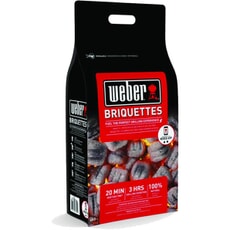 Name: Weber® Briquettes 4kg

Description: Weber have worked long and hard to create their briquettes working on both their composition and shaping to engineer their most efficient fuel to date.

From the design to the manufacture

SKU: 17590

Code: 17590

UPC: 077924036538

Brand: Weber

URL: https://www.bbqworld.co.uk/weber-barbecues/accessories/weber-briquettes-4kg.asp

Our Price: (£) 8.49

Condition: New

Availability: In Stock