Weber Grill Brush - Bamboo Handle 30cm

Product Code: 6463

Unfortunately this product is currently unavailable to purchase - we are not sure when we'll have it back in stock.
Sponsored Links
Product Information
Food build up means that greasy grates will eventually suffer from uneven heat distribution, flare-ups and detract from the taste of food.

A little effort to look after your barbecue with a Weber 12"/30cm Grill Brush will make all the difference. Bring the grate up to cooking heat then brush and scrape way any built up residues.

The brush is a heavy duty, steel bristled grate brush with a bamboo handle and features a notched scraper at the head of the brush to help get rid of baked on juices and grease.
Technical Specification


Weber Cleaning Brush
Length - 30cm
Handle in bamboo wood
Stainless steel bristles

Dimensions

BBQ Dimensions
Height (cm) -
Width (cm) -
Depth (cm) -
Weight (kg) - 1.6

Box Dimensions
Height (cm) - 25.6
Width (cm) - 12.9
Length (cm) - 18.5

Cooking Area
Width (cm) -
Depth (cm) -
Reviews of the Weber Grill Brush - Bamboo Handle 30cm
Additional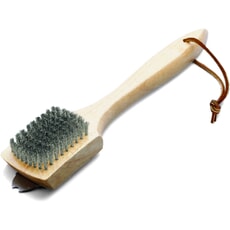 Name: Weber Grill Brush - Bamboo Handle 30cm

Description: Food build up means that greasy grates will eventually suffer from uneven heat distribution, flare-ups and detract from the taste of food.

A little effort to look after your barbecue wit

SKU: 6463

Code: 6463

UPC: 077924006821

Brand: Weber

URL: https://www.bbqworld.co.uk/weber-barbecues/accessories/weber-12-grill-brush.asp

Our Price: (£) 7.49

Condition: New

Availability: