Napoleon Stainless Steel Chicken Roaster and Wok

Product Code: 56024
Sponsored Links
Product Information
The Napoleonís Stainless Steel Chicken Roaster & Wok Grill is a perfect way to cook roasted chicken on a barcecue plus the base doubles as a grill wok topper making it great for stir-frying veggies or cooking side dishes while grilling a meal.

Simply attach the flavour cup to turn the Stainless Steel Chicken Roaster & Wok into a beer can chicken roaster then add the flavour cone to create unique flavour combinations. The cup easily slides and locks into the base then is able to filled with water, juice, herbs, soda, wine, or anything other liquid you might wish to flavour a chicken with.

Then place the flavour cone into the cup and add a chicken for an effortless deliciously roasted chicken as the flavour coneís steam vents direct flavored liquid up into the chicken while the tapered shape prevents troublesome suction issues when itís time to serve.

The durable stainless steel construction conducts heat for perfect roasting and stir-frying while keeping Stainless Steel Chicken Roaster & Wok easy to clean and store.


Technical Specification


Made from durable stainless steel
Square base doubles as a grill wok
Sets up in seconds
Flavour cup holds flavorful liquid or cans for beer can chicken
Dishwasher Safe
Dimensions -
28 cm x 28 cm x 9 cm

Dimensions

BBQ Dimensions
Height (cm) -
Width (cm) -
Depth (cm) -
Weight (kg) - 1

Box Dimensions
Height (cm) -
Width (cm) -
Length (cm) -

Cooking Area
Width (cm) -
Depth (cm) -
Reviews of the Napoleon Stainless Steel Chicken Roaster and Wok
Additional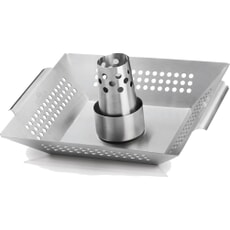 Name: Napoleon Stainless Steel Chicken Roaster and Wok

Description: The Napoleonís Stainless Steel Chicken Roaster & Wok Grill is a perfect way to cook roasted chicken on a barcecue plus the base doubles as a grill wok topper making it great for stir-frying veggies or

SKU: 56024

Code: 56024

UPC: 0629162560247

URL: https://www.bbqworld.co.uk/napoleon/napoleon-stainless-steel-chicken-roaster-and-wok.asp

Our Price: (£) 31.49

Condition: New

Availability: In Stock