Napoleon Cover - 325 Series

Product Code: 63325

Unfortunately this product is currently unavailable to purchase - we are not sure when we'll have it back in stock.
Sponsored Links
Product Information
The Napoleon 325 Series Grill Cover will keep your grill protected from the elements or air borne dirt.

This quality Napoleon grill cover will fit tightly to fit your grill securely, but is easy to remove and will help keep your grill in tip-top shape giving you years of delicious meals from your grill.

Will fit the Napoleon Triumph 325SB with the side shelves down.
Technical Specification


Fits Napoleon 325 Series Grills

Fits Napoleon Triumph 325SB with the side shelves down

Dimensions -
H 108 cm x W 86 cm x D 48 cms
Heavy duty 600 denier UV protect PVC polyester
2 metal hanging loops for storage
Ventilation strip to reduce moisture
Webbing straps for secure fit

Dimensions

BBQ Dimensions
Height (cm) -
Width (cm) -
Depth (cm) -
Weight (kg) - 1.5

Box Dimensions
Height (cm) -
Width (cm) -
Length (cm) -

Cooking Area
Width (cm) -
Depth (cm) -
Reviews of the Napoleon Cover - 325 Series
Additional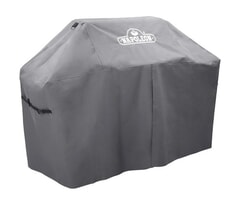 Name: Napoleon Cover - 325 Series

Description: The Napoleon 325 Series Grill Cover will keep your grill protected from the elements or air borne dirt.

This quality Napoleon grill cover will fit tightly to fit your grill securely, but
SKU: 63325

Code: 63325

UPC: 629162683267

Our Price: (£) 44.99

Condition: New

Availability: Out Of Stock

URL: https://www.bbqworld.co.uk/napoleon/napoleon-se325-cover.asp