Napoleon Presidents Limited Edition 4 Piece Toolset

Product Code: 70037
Sponsored Links
Product Information
The Napoleon President's Limited Edit. 4 Piece Toolset features a high-quality design that has been constructed from a cast stainless steel that is then teamed up with comfortable ergonomic black heat resistant handles.

Designed and built to be the only knife you will ever need the included Napoleon Executive Chef Knife is made from German steel and is razor sharp creating the ideal all-purpose knife. Equally well thought out the large spatula is ideal for steaks and other larger pieces of food having a bladed tip and serrated edge while the easy-lock stainless steel tongs are always ready for action as their comfortable ergonomically shaped grip making it easier to grasp and move whatever is being barbecued.

Add extra flavour and depth of taste using the silicone basting brush to liberally apply marinade and sauce during the cooking process.
Technical Specification


Cast Stainless Steel
Black heat resistant ergonomic handles
Includes -
Spatula
Tongs
Basting Brush
Chef's Knife
1 Year Warranty

Dimensions

BBQ Dimensions
Height (cm) -
Width (cm) -
Depth (cm) -
Weight (kg) - 3

Box Dimensions
Height (cm) -
Width (cm) -
Length (cm) -

Cooking Area
Width (cm) -
Depth (cm) -
Reviews of the Napoleon Presidents Limited Edition 4 Piece Toolset
Additional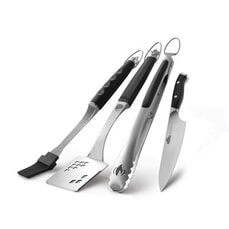 Name: Napoleon Presidents Limited Edition 4 Piece Toolset

Description: The Napoleon President's Limited Edit. 4 Piece Toolset features a high-quality design that has been constructed from a cast stainless steel that is then teamed up with comfortable ergonomic black hea

SKU: 70037

Code: 70037

UPC: 0629162700377

URL: https://www.bbqworld.co.uk/napoleon/napoleon-4-piece-toolset.asp

Our Price: (£) 75.99

Condition: New

Availability: In Stock