Australian Heat Beads - 10kg Bag

Product Code: HBEAD10
Sponsored Links
Product Information
Australian Heat Beads 10kg Bags burn hotter and longer than charcoal meaning less fuel is needed. The sustained heat output is ideal for kettle barbecues and especially good for cooking large roasts. Consistent high quality means less variation in performance when barbecue is used.

All Heat Bead briquettes are contained within heavy weight paper bags which are then packed into a cardboard box for protection in transit with the courier.

On occasions the bag can split during transit and whilst no charcoal or briquettes will be lost due to the cardboard box we strongly recommend the box is opened in an area where any dust from the charcoal or briquettes will not cause damage.
Technical Specification


Typical Composition -
Fixed Carbon Approx.- 70%
Ash Approx.- 17%
Water Approx.- 7%
Other Approx. - 6%
Fines <1% at 20mm

WARNING
Carbon Monoxide hazard
Never ignite and use indoors
Store in a cool dry space away from other inflammable products
Use at a safe distance from imflammable products
After cooking remove the dome and grill plate to allow to burn out away from children & animals
Be sure the ashes are completely burnt out before discarding in refuse bin away from children & animals
Can only ship to UK Mainland

Dimensions

BBQ Dimensions
Height (cm) -
Width (cm) -
Depth (cm) -
Weight (kg) - 10

Box Dimensions
Height (cm) -
Width (cm) -
Length (cm) -

Cooking Area
Width (cm) -
Depth (cm) -
Reviews of the Australian Heat Beads - 10kg Bag
Additional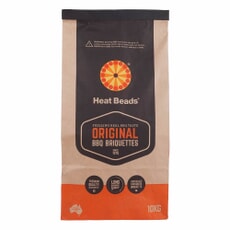 Name: Australian Heat Beads - 10kg Bag

Description: Australian Heat Beads 10kg Bags burn hotter and longer than charcoal meaning less fuel is needed. The sustained heat output is ideal for kettle barbecues and especially good for cooking large roasts.

SKU: HBEAD10

Code: HBEAD10

UPC: 9312730005486

URL: https://www.bbqworld.co.uk/heat-beads/australian-heat-beads-10kg-bag.asp

Our Price: (£) 19.99

Condition: New

Availability: In Stock