Broil King Premium Pork Claws

Product Code: 64070

Price £23.39
RRP: £25.99 - Save 10%


In Stock : Yes - Currently in stock online - only 1 available!


Sponsored Links
Product Information
The Broil King Premium Meat Claws are stainless steel meat shredding claws which are designed to hold and pull pork roasts, pot roasts, poultry and smoked or grilled meats.

The pork claws are tough and durable being constructed from heavy duty stainless steel wire with forged handles so that they are built to last with no compromises on performance.

Also included is a silicone holder/hanging coupler to keep them together when not in use for convenient storage which is both heat resistant to 260c and dishwasher safe.
Technical Specification


Stainless steel
Silicone holder/hanging coupler
Length - 21.5cm

Dimensions

BBQ Dimensions
Height (cm) -
Width (cm) -
Depth (cm) -
Weight (kg) - 0.4

Box Dimensions
Height (cm) -
Width (cm) -
Length (cm) -

Cooking Area
Width (cm) -
Depth (cm) -
Reviews of the Broil King Premium Pork Claws
Additional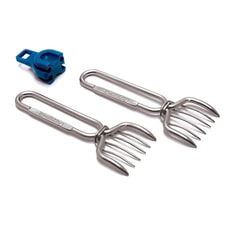 Name: Broil King Premium Pork Claws

Description: The Broil King Premium Meat Claws are stainless steel meat shredding claws which are designed to hold and pull pork roasts, pot roasts, poultry and smoked or grilled meats.

The pork claws
SKU: 64070

Code: 64070

UPC: 60162640704

Our Price: (£) 23.39

Condition: New

Availability: In Stock

URL: https://www.bbqworld.co.uk/broil-king/broil-king-premium-pork-claws.asp