Yeti Coolers, Mugs and Bottles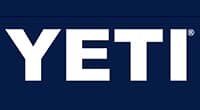 Yeti - that's that mythical creature that lives in the mountains, right? Wrong. But, not as wrong as you might think. Yeti Outdoor Equipment is born out of a passion and love for the outdoors.

Built to be durable enough to be handled by a true yeti and still come back for more. Designed for the outdoors by people who spend time outdoors. Not by a committee pouring over research numbers.

Yeti is the brand for people who love the outdoors.
Browse Yeti Products
Sponsored Link
Reviews Of Yeti Coolers, Mugs and Bottles