Weber® Summit® series Cast Iron Griddle

Product Code: 7404

Price £114.70
RRP: £120.74 - Save 5%


In Stock : Yes - Currently in stock online - only 6 available!


Sponsored Links
Product Information
TheWeber® Summit® series Cast Iron Griddle is designed to fit Weber Summit® 400/600 series (2007 and newer) gas bbqs. The griddle has a smooth side on the reverse and ridged side shown in the picture above. Bacon, sausages, fried eggs, potato cakes the perfect breakfast. Or why not try barbecued vegetables or perfect pancakes using the cast-iron griddle. If you have a pizza stone, you can bake fresh bread and then place the griddle in the barbecue to cook the rest of your breakfast.
Technical Specification


Fits - Summit® 400/600 series (2007 and newer)
2-sided, porcelain-enamelled, cast-iron griddle
Textured side is ideal for Paninis
Flat surface for delicate items such as scallops and shrimp
Hand wash only
Length - 49 cm
Width - 31 cm at widest point 28.5cm otherwise
Weight - 7 Kg

Dimensions

BBQ Dimensions
Height (cm) -
Width (cm) -
Depth (cm) -
Weight (kg) - 8.41

Box Dimensions
Height (cm) -
Width (cm) -
Length (cm) -

Cooking Area
Width (cm) -
Depth (cm) -
Reviews of the Weber® Summit® series Cast Iron Griddle
Additional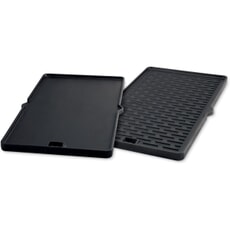 Name: Weber® Summit® series Cast Iron Griddle

Description: TheWeber® Summit® series Cast Iron Griddle is designed to fit Weber Summit® 400/600 series (2007 and newer) gas bbqs. The griddle has a smooth side on the reverse and ridged side shown in the picture
SKU: 7404

Code: 7404

UPC: 077924083495

Brand: Weber

Our Price: (£) 114.7

Condition: New

Availability: In Stock

URL: https://www.bbqworld.co.uk/weber-barbecues/accessories/weber-summit-griddle.asp