WeberŪ Deluxe Grilling Pan

Product Code: 6435

Unfortunately this product is currently unavailable to purchase - we are not sure when we'll have it back in stock.
Sponsored Links
Product Information
The WeberŪ Deluxe Grilling Pan is ideal for grilling fish, vegetables or even fruit and can be used to make fried potatoes or extra crispy chips straight out of the freezer.

Constructed from stainless steel this versatile grill pan has large sized carry handles making it easy to carry between the kitchen, barbecue and table.
Technical Specification


Fits - WeberŪ Q 300/3000 and larger gas barbecues, 57cm and larger charcoal barbecues
Ideal for fish fillets or other delicate items that may fall between the grates
Stainless steel
Dishwasher safe
Dimensions -
H 3.56cm x W 29.97cm x D 44.2cm

Dimensions

BBQ Dimensions
Height (cm) - 4cm
Width (cm) - 30cm
Depth (cm) - 44cm
Weight (kg) - 0.5

Box Dimensions
Height (cm) - 6.03
Width (cm) - 19.1
Length (cm) - 24.1

Cooking Area
Width (cm) -
Depth (cm) -
Reviews of the WeberŪ Deluxe Grilling Pan
Additional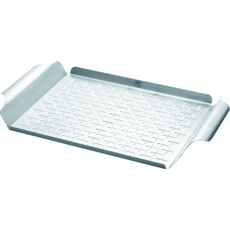 Name: WeberŪ Deluxe Grilling Pan

Description: The WeberŪ Deluxe Grilling Pan is ideal for grilling fish, vegetables or even fruit and can be used to make fried potatoes or extra crispy chips straight out of the freezer.

Constructed f

SKU: 6435

Code: 6435

UPC: 077924074899

Brand: Weber

URL: https://www.bbqworld.co.uk/weber-barbecues/accessories/weber-style-grill-pan.asp

Our Price: (£) 29.92

Condition: New

Availability: