Weber® Premium BBQ Cover - Smokey Joe

Product Code: 7121

Unfortunately this product is currently unavailable to purchase - we are not sure when we'll have it back in stock.
Sponsored Links
Product Information
The Weber Smokey Joe Originals and Premiums are perfect for camping, days at the beach, festivals, holidays and charcoal grilling on the go so the Weber Smokey Joe Carry Bag is a must have for Smokey Joe owners.

The heavy duty material protects your portable barbecue, keeping all the bits together and clean, whilst an adjustable, removable shoulder strap makes it even easier to carry around whilst the top carry handle makes it easy to lift in and out of car boots so where ever your adventures take you a Weber Smokey Joe can go as well.
Technical Specification


Fits Weber Smokey Joe
Shoulder strap
Carry Handle
Heavy duty fabric

Dimensions

BBQ Dimensions
Height (cm) -
Width (cm) -
Depth (cm) -
Weight (kg) - 0.2

Box Dimensions
Height (cm) - 5.3
Width (cm) - 10.2
Length (cm) - 23

Cooking Area
Width (cm) -
Depth (cm) -
Reviews of the Weber® Premium BBQ Cover - Smokey Joe
Additional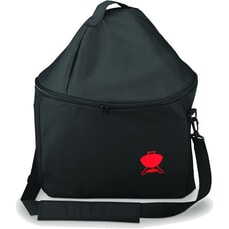 Name: Weber® Premium BBQ Cover - Smokey Joe

Description: The Weber Smokey Joe Originals and Premiums are perfect for camping, days at the beach, festivals, holidays and charcoal grilling on the go so the Weber Smokey Joe Carry Bag is a must have for Smokey
SKU: 7121

Code: 7121

UPC: 077924035722

Brand: Weber

Our Price: (£) 41.99

Condition: New

Availability: In Stock

URL: https://www.bbqworld.co.uk/weber-barbecues/accessories/weber-smokey-joe-carry-bag-7121.asp