WeberŪ Grilling Basket - Small

Product Code: 6470
Sponsored Links
Product Information
The WeberŪ Grilling Basket - Small is far more flexible for barbecuing than it's name suggests. Whilst fantastic for barbecuing whole fish or fish fillets the basket can be filled with vegetables, burgers or sausages for fuss free grilling.

The basket is raised from the surface of the grill by it's side arms so no matter how delicate the fish may be the likelihood that it will fall apart or stick to the grill will be removed. The gentle spring grip design will allow the contents of the basket to be firmly held in place for turning on the grill.

The WeberŪ Grilling Basket - Small is made from stainless steel, for easy cleaning and durability and is perfectly sized for smaller barbecues such as the Baby Q or Smokey Joe though will work excellently on larger barbecues as well.
Technical Specification


Fits all Weber Charcoal and Gas barbecues
Flexible wire accommodates food in a variety of shapes and sizes
Stainless steel
Dishwasher safe
Cooking area - 22 x 19 cm (28cm at widest part)
Dimensions -
H 5.59 cm H x 20.57cm W x 27.94cm D

Dimensions

BBQ Dimensions
Height (cm) -
Width (cm) -
Depth (cm) -
Weight (kg) - 0.1

Box Dimensions
Height (cm) - 33.7
Width (cm) - 1.3
Length (cm) - 7.6

Cooking Area
Width (cm) - 22 cm
Depth (cm) - 19 cm
Reviews of the WeberŪ Grilling Basket - Small
Additional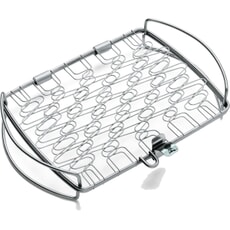 Name: WeberŪ Grilling Basket - Small

Description: The WeberŪ Grilling Basket - Small is far more flexible for barbecuing than it's name suggests. Whilst fantastic for barbecuing whole fish or fish fillets the basket can be filled with vegetables, bur

SKU: 6470

Code: 6470

UPC: 077924011139

Brand: Weber

URL: https://www.bbqworld.co.uk/weber-barbecues/accessories/weber-small-fish-basket.asp

Our Price: (£) 29.92

Condition: New

Availability: In Stock