WeberŽ Seafood Wood Chips - 0.7kg

Product Code: 17665

Unfortunately this product is currently unavailable to purchase - we are not sure when we'll have it back in stock.
Sponsored Links
Product Information
Smoking fish and seafood on the grill is easy and makes mouths water. This mix of carefully chosen broadleaf and fruit tree wood chips fits perfectly no matter if you're smoking salmon, mackerel or shrimps. Adds a fruity, mild smoke flavour and come in a resealable bag.
Technical Specification


FSC certified wood
Re-sealable bag
0.7kg bags

Dimensions

BBQ Dimensions
Height (cm) -
Width (cm) -
Depth (cm) -
Weight (kg) - 1.5

Box Dimensions
Height (cm) - 42
Width (cm) - 12
Length (cm) - 22

Cooking Area
Width (cm) -
Depth (cm) -
Reviews of the WeberŽ Seafood Wood Chips - 0.7kg
Additional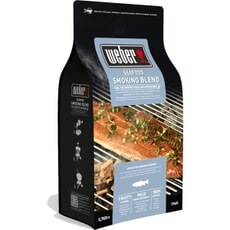 Name: WeberŽ Seafood Wood Chips - 0.7kg

Description: Smoking fish and seafood on the grill is easy and makes mouths water. This mix of carefully chosen broadleaf and fruit tree wood chips fits perfectly no matter if you're smoking salmon, mackerel or sh
SKU: 17665

Code: 17665

UPC: 077924048845

Brand: Weber

Our Price: (£) 7.34

Condition: New

Availability: Out Of Stock

URL: https://www.bbqworld.co.uk/weber-barbecues/accessories/weber-seafood-wood-chips-0-7kg.asp