WeberŪ Premium Grilling Rack

Product Code: 6469

Unfortunately this product is currently unavailable to purchase - we are not sure when we'll have it back in stock.
Sponsored Links
Product Information
The WeberŪ Premium Grilling Rack, formerly known as the Weber Rib And Roast Holder, is a neat grill accessory from Weber for any 57cm or larger barbecue - one way up for holding up to 5 ribs at one time and flip it over to the other way up to hold a roast.

Designed to make sure the meat does not come into contact with the grill for better taste and less cleaning.
Technical Specification


Fits - WeberŪ Q 300/3000 and larger gas barbecues, and 57cm and larger charcoal barbecues
Reversable 2-in-1 design - roast large cuts of meat or flip over to barbecue up to five racks of ribs
Dishwasher safe
Dimensions -
H 11.18cm x W 26.67cm x D 43.43cm

Dimensions

BBQ Dimensions
Height (cm) -
Width (cm) -
Depth (cm) -
Weight (kg) - 0.6

Box Dimensions
Height (cm) - 4.45
Width (cm) - 20.64
Length (cm) - 33.5

Cooking Area
Width (cm) -
Depth (cm) -
Reviews of the WeberŪ Premium Grilling Rack
Additional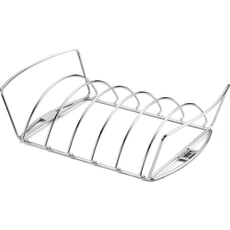 Name: WeberŪ Premium Grilling Rack

Description: The WeberŪ Premium Grilling Rack, formerly known as the Weber Rib And Roast Holder, is a neat grill accessory from Weber for any 57cm or larger barbecue - one way up for holding up to 5 ribs at one ti
SKU: 6469

Code: 6469

UPC: 077924010835

Brand: Weber

Our Price: (£) 31.49

Condition: New

Availability: Out Of Stock

URL: https://www.bbqworld.co.uk/weber-barbecues/accessories/weber-rib-and-roast-holder.asp