Weber® Q™ Portable Cart - Fits Q™ 1000/2000 Series

Product Code: 6557

Price £147.62
RRP: £155.39 - Save 5%


In Stock : Yes - Currently in stock online - only 4 available!


Sponsored Links
Product Information
The Weber Q Portable Cart For Q1000/2000 is an ingenious quick folding cart that can be used as a grill stand, at just the right height for cooking, or as a cart to transport the Weber Q1000/2000 gas grill for on the go adventures like going to the beach or camping.

The push-button function allows you to quickly fold or unfold the cart with your grill securely in place. Removing your grill is easy with the spring-loaded locking pins. When you are ready to grill, just check the leg locking indicator to make sure the legs are locked.

When you are done grilling, just fold it back up and use the strap to hold the grill in place then pull the grill along behind you. The Weber Q1000/2000 Portable Cart is constructed from quality materials and has a sturdy construction so you will enjoy years of trouble-free use.

The Weber Q Portable Cart For Q1000/2000 folds away for easy storage and or to fit in the boot of the car when taking your barbecue to parties or camping.

To use as a cart to pull along the grill behind you for transportion simply fold and place the Weber Q grill on top.

Fits both Weber Q1000 and Q2000 series barbecues.
Technical Specification


Please note Weber Q is NOT included


Cart can be folded for easy transportation or storage.
Easily pull the grill around by the long handle and rear wheels
Fits Weber Q 1000 & Q 2000 Series gas grills and the Weber Q1400 electric grill.

Dimensions

BBQ Dimensions
Height (cm) -
Width (cm) -
Depth (cm) -
Weight (kg) - 1

Box Dimensions
Height (cm) - 31.1
Width (cm) - 8.6
Length (cm) - 26.8

Cooking Area
Width (cm) -
Depth (cm) -
Reviews of the Weber® Q™ Portable Cart - Fits Q™ 1000/2000 Series
Additional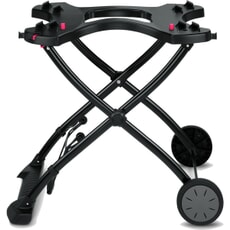 Name: Weber® Q™ Portable Cart - Fits Q™ 1000/2000 Series

Description: The Weber Q Portable Cart For Q1000/2000 is an ingenious quick folding cart that can be used as a grill stand, at just the right height for cooking, or as a cart to transport the Weber Q1000/2000 gas
SKU: 6557

Code: 6557

UPC: 077924021619

Brand: Weber

Our Price: (£) 147.62

Condition: New

Availability: In Stock

URL: https://www.bbqworld.co.uk/weber-barbecues/accessories/weber-q1000-2000-portable-cart-6557.asp