Weber® Q™ Patio Cart - Fits Q™ 2000 Series

Product Code: 6526

Unfortunately this product is currently unavailable to purchase - we are not sure when we'll have it back in stock.
Sponsored Links
Product Information
The Weber® Cart - Fits Q™ 2000 Series has been designed to be a stable, easily movable cart for a Weber Q that raises the bbq to the perfect working height for even more flexible options.

Suitable for all the Weber MidiQ/Q200/Q2000 series models.
Technical Specification


Fits Weber Midi Q/Q200/Q2000 series barbecues
Converts portable grill to full height use at home
Stable and secure - Grill securely and simply clips on to the top
Heavy-duty cart with three integrated tool hooks
Fluid shaping to complement 2014 or later Q2200 Grills
Screen hides Patio Gas bottle
Storage area for tools and accessories
Side handle for easy mobility


Some assembly required.

Dimensions

BBQ Dimensions
Height (cm) -
Width (cm) -
Depth (cm) -
Weight (kg) - 4.1

Box Dimensions
Height (cm) - 75.5
Width (cm) - 11.8
Length (cm) - 51.8

Cooking Area
Width (cm) -
Depth (cm) -
Reviews of the Weber® Q™ Patio Cart - Fits Q™ 2000 Series
Additional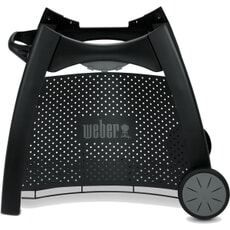 Name: Weber® Q™ Patio Cart - Fits Q™ 2000 Series

Description: The Weber® Cart - Fits Q™ 2000 Series has been designed to be a stable, easily movable cart for a Weber Q that raises the bbq to the perfect working height for even more flexible options.


SKU: 6526

Code: 6526

UPC: 077924024641

Brand: Weber

Our Price: (£) 204.74

Condition: New

Availability: Out Of Stock

URL: https://www.bbqworld.co.uk/weber-barbecues/accessories/weber-q-permanent-cart-6526.asp