Weber Pulse Cart - Pulse 1000 and 2000

Product Code: 6539

Price £189.99
RRP: £223.00 - Save 15%


In Stock : Yes - Currently in stock online - More than 10 available


Sponsored Links
Product Information
The WeberŽ PulseŽ Cart - Fits PulseŽ 1000 and 2000 has been built to accommodate Weber PulseŽ 1000 or 2000 series electric powered barbecues.

Simply place a PulseŽ 1000 or PulseŽ 2000 series electric grill onto the heavy-duty cart and use it as a stand to sit it at the optimal grilling height plus to simply move a PULSEŽ around for extra mobility.

It is also makes an ideal workspace or food preparation space with integrated tool hooks and a side table for placing serving trays.
Technical Specification


Fits - Pulse 1000 and Pulse 2000 series electric grills

Stainless steel, plastic and metal components
Clean with a damp towel
Heavy-duty cart with three integrated tool hooks and side handle for easy mobility
Side table is removable and can be stored in a downward position
Two durable all-weather wheels
Dimensions -
H 88.9 cm x W 61.42 cm x D 111.89 cm

Dimensions

BBQ Dimensions
Height (cm) - 96.52
Width (cm) - 63.50
Depth (cm) - 26.67
Weight (kg) - 15.88

Box Dimensions
Height (cm) - 78.36
Width (cm) - 53.86
Length (cm) - 29.51

Cooking Area
Width (cm) -
Depth (cm) -
Reviews of the Weber Pulse Cart - Pulse 1000 and 2000
Additional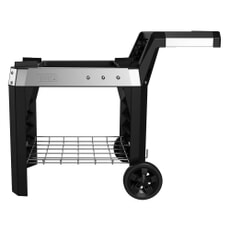 Name: Weber Pulse Cart - Pulse 1000 and 2000

Description: The WeberŽ PulseŽ Cart - Fits PulseŽ 1000 and 2000 has been built to accommodate Weber PulseŽ 1000 or 2000 series electric powered barbecues.

Simply place a PulseŽ 1000 or PulseŽ 2000 ser
SKU: 6539

Code: 6539

UPC: 0077924059148

Brand: Weber

Our Price: (£) 189.99

Condition: New

Availability: In Stock

URL: https://www.bbqworld.co.uk/weber-barbecues/accessories/weber-pulse-premium-cart.asp