Weber Premium Cover - Genesis II 3 Burner

Product Code: 7134

Unfortunately this product is currently unavailable to purchase - we are not sure when we'll have it back in stock.
Sponsored Links
Product Information
This Premium cover in heavy duty, breathable polyester offers superior weather protection. The velcro straps on both sides ensure that the cover stays in place.
Technical Specification


Fits WeberŪ GenesisŪ II 3 burner, GenesisŪ II LX 3 burner and GenesisŪ 300 series

UV resistant material prevents the cover from fading
Breathable, weather resistant polyester material protects grill from the elements
Velcro Fastening straps
Measures: H: 113cm W: 147.3cm D: 63.5cm

Dimensions

BBQ Dimensions
Height (cm) -
Width (cm) -
Depth (cm) -
Weight (kg) - 0.5

Box Dimensions
Height (cm) - 23.4
Width (cm) - 3.3
Length (cm) - 20.6

Cooking Area
Width (cm) -
Depth (cm) -
Reviews of the Weber Premium Cover - Genesis II 3 Burner
Additional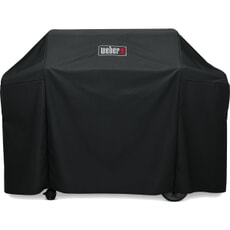 Name: Weber Premium Cover - Genesis II 3 Burner

Description: This Premium cover in heavy duty, breathable polyester offers superior weather protection. The velcro straps on both sides ensure that the cover stays in place.

SKU: 7134

Code: 7134

UPC: 077924049873

Brand: Weber

URL: https://www.bbqworld.co.uk/weber-barbecues/accessories/weber-premium-cover-for-genesis-mk2-3-burner.asp

Our Price: (£) 119.49

Condition: New

Availability: