WeberŽ Premium 2 Piece Tool Set

Product Code: 6645

Unfortunately this product is currently unavailable to purchase - we are not sure when we'll have it back in stock.
Sponsored Links
Product Information
The Weber Original Portable 2 Piece Tool Set is a compact sized stainless steel 2 piece tool set which includes a spatula and locking tongs with easy-grip rubber handles.

The compact 35cm length of the utensils means that they are perfect for camping, picnics, urban use or anywhere space is tight.
Technical Specification


Stainless steel
Spatula
Locking Tongs
Ergonomic easy grip rubber handles
Length - 35 cm

Dimensions

BBQ Dimensions
Height (cm) -
Width (cm) -
Depth (cm) -
Weight (kg) - 0.9

Box Dimensions
Height (cm) - 45.1
Width (cm) - 7.3
Length (cm) - 15.2

Cooking Area
Width (cm) -
Depth (cm) -
Reviews of the WeberŽ Premium 2 Piece Tool Set
Additional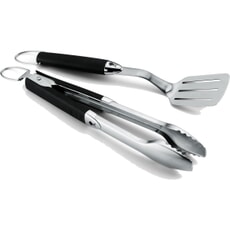 Name: WeberŽ Premium 2 Piece Tool Set

Description: The Weber Original Portable 2 Piece Tool Set is a compact sized stainless steel 2 piece tool set which includes a spatula and locking tongs with easy-grip rubber handles.

The compact 35cm
SKU: 6645

Code: 6645

UPC: 077924011191

Brand: Weber

Our Price: (£) 41.99

Condition: New

Availability: Out Of Stock

URL: https://www.bbqworld.co.uk/weber-barbecues/accessories/weber-portable-2-piece-tool-set.asp