WeberŪ Mini Burger Press

Product Code: 6485

Unfortunately this product is currently unavailable to purchase - we are not sure when we'll have it back in stock.
Sponsored Links
Product Information
The WeberŪ Mini Burger Press has been designed for easily making two small burgers. It has a nylon handle with textured non-slip grip and detachable handle for easy cleaning.
Technical Specification


Designed to make a dimple in patties for flat, uniform sliders
Dishwasher safe
Dimensions -
H 7.62cm x W 8.13cm x D 16.26cm

Dimensions

BBQ Dimensions
Height (cm) -
Width (cm) -
Depth (cm) -
Weight (kg) - 0.3

Box Dimensions
Height (cm) - 14.1
Width (cm) - 8.6
Length (cm) - 12.4

Cooking Area
Width (cm) -
Depth (cm) -
Reviews of the WeberŪ Mini Burger Press
Additional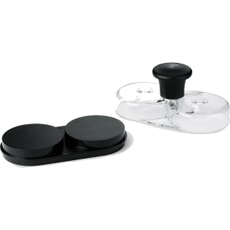 Name: WeberŪ Mini Burger Press

Description: The WeberŪ Mini Burger Press has been designed for easily making two small burgers. It has a nylon handle with textured non-slip grip and detachable handle for easy cleaning.

SKU: 6485

Code: 6485

UPC: 077924018978

Brand: Weber

URL: https://www.bbqworld.co.uk/weber-barbecues/accessories/weber-original-slider-press.asp

Our Price: (£) 14.75

Condition: New

Availability: