WeberŽ Pizza Lifter - Stainless Steel

Product Code: 6691

Unfortunately this product is currently unavailable to purchase - we are not sure when we'll have it back in stock.
Sponsored Links
Product Information
The WeberŽ Pizza Paddle - Stainless Steel make making pizzas on a barbecue even easier - just simply slide the paddle under your pizza, lift and take to the table.
The handle is coated with soft rubber to give added grip and it also rotates for more compact storage. It wil no longer be necessary to juggle hot pizzas with a spatula and tongs on their way from grill to table.
Technical Specification


Stainless steel paddle lifts and transports pizzas to and from the barbecue
Stainless steel
Soft rubber handle
Handle rotates for compact storage
Dishwasher safe
Dimensions -
H 4.32cm x W 31.5cm x D 56.9cm

Dimensions

BBQ Dimensions
Height (cm) -
Width (cm) -
Depth (cm) -
Weight (kg) - 0.4

Box Dimensions
Height (cm) - 27
Width (cm) - 4.8
Length (cm) - 13.3

Cooking Area
Width (cm) -
Depth (cm) -
Reviews of the WeberŽ Pizza Lifter - Stainless Steel
Additional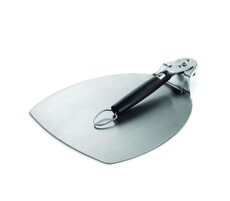 Name: WeberŽ Pizza Lifter - Stainless Steel

Description: The WeberŽ Pizza Paddle - Stainless Steel make making pizzas on a barbecue even easier - just simply slide the paddle under your pizza, lift and take to the table.
The handle is coated with so
SKU: 6691

Code: 6691

UPC: 077924031830

Brand: Weber

Our Price: (£) 33.99

Condition: New

Availability: Out Of Stock

URL: https://www.bbqworld.co.uk/weber-barbecues/accessories/weber-original-pizza-paddle.asp