Weber Oil and Vinegar Set

Product Code: 17554

Unfortunately this product is currently unavailable to purchase - we are not sure when we'll have it back in stock.
Sponsored Links
Product Information
The stylish Weber Original Oil and Vinegar bottle has an easy pour top and sealing lid to the spout to make a great addition to any kitchen or out door living area.

Simply add chillies, herbs or other flavourings to oils to create your own taste enhancing infusions to help bring out the best for any meat, fish or vegetables cooked on the grill.
Technical Specification


Conical oil / vinegar bottle in bright glass
Drip-free spout
Lid to close spout
Spout made of stainless steel
Plastic lid
Durable hard glass with Weber Logo
Dishwasher safe
Dimensions -
H 20cm x W 7.5cm x D 7.5cm

Dimensions

BBQ Dimensions
Height (cm) -
Width (cm) -
Depth (cm) -
Weight (kg) - 0.3

Box Dimensions
Height (cm) - 9.5
Width (cm) - 9.5
Length (cm) - 22.5

Cooking Area
Width (cm) -
Depth (cm) -
Reviews of the Weber Oil and Vinegar Set
Additional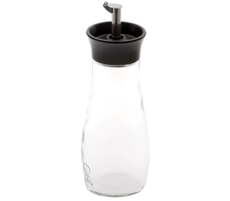 Name: Weber Oil and Vinegar Set

Description: The stylish Weber Original Oil and Vinegar bottle has an easy pour top and sealing lid to the spout to make a great addition to any kitchen or out door living area.

Simply add chillies, h

SKU: 17554

Code: 17554

UPC: 077924027871

Brand: Weber

URL: https://www.bbqworld.co.uk/weber-barbecues/accessories/weber-original-oil-vinegar-bottle.asp

Our Price: (£) 14.75

Condition: New

Availability: