Weber® Griddle - Cast Iron Q™ 3000 Series

Product Code: 6506Q

Unfortunately this product is currently unavailable to purchase - we are not sure when we'll have it back in stock.
Sponsored Links
Product Information
The Weber Original Griddle Q3000 Series is an ideal solution to the problem of how to cook food which would fall through the cooking grates, such as breakfasts, otherwise.

Ideally to be used with the Weber Q300/3000 Series Cooking Grates, not included, with which a section can be lifted out to be replaced by the Weber Original Griddle Q3000 Series which sits at one side of the grate.
Technical Specification


Cast Iron
Fits Weber Q300 and Q3000 series barbecues
Use with Weber Q300/3000 Series Cooking Grates - 7646

Dimensions

BBQ Dimensions
Height (cm) -
Width (cm) -
Depth (cm) -
Weight (kg) - 4.5

Box Dimensions
Height (cm) -
Width (cm) -
Length (cm) -

Cooking Area
Width (cm) -
Depth (cm) -
Reviews of the Weber® Griddle - Cast Iron Q™ 3000 Series
Additional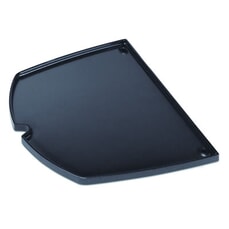 Name: Weber® Griddle - Cast Iron Q™ 3000 Series

Description: The Weber Original Griddle Q3000 Series is an ideal solution to the problem of how to cook food which would fall through the cooking grates, such as breakfasts, otherwise.

Ideally to be u

SKU: 6506Q

Code: 6506Q

UPC: 077924075063

Brand: Weber

URL: https://www.bbqworld.co.uk/weber-barbecues/accessories/weber-original-griddle-q3000-series.asp

Our Price: (£) 58.49

Condition: New

Availability: