WeberŽ Mesquite Wood Chips - 0.7kg

Product Code: 17625

Unfortunately this product is currently unavailable to purchase - we are not sure when we'll have it back in stock.
Sponsored Links
Product Information
The Weber Mesquite Wood Chips infuse a smoky, bacon-like flavour making an excellent choice for smoking beef, pork and venison.

The Weber Mesquite Wood Chips are now delivered in a re-sealable bag so that more of the mesquite taste is kept during storage between grilling sessions.

Simply soak the chips in water for as long as possible before using for smoking, ideally overnight, and the smoke will be released as the chips heat through in the barbecue or smoker to flavour the food for satisfyingly tasty results.
Technical Specification


Re-sealable bags
0.7kg bags

Dimensions

BBQ Dimensions
Height (cm) -
Width (cm) -
Depth (cm) -
Weight (kg) - 0.7

Box Dimensions
Height (cm) - 32.5
Width (cm) - 10
Length (cm) - 17

Cooking Area
Width (cm) -
Depth (cm) -
Reviews of the WeberŽ Mesquite Wood Chips - 0.7kg
Additional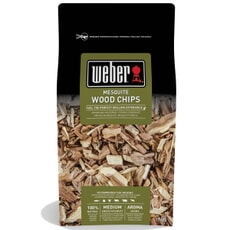 Name: WeberŽ Mesquite Wood Chips - 0.7kg

Description: The Weber Mesquite Wood Chips infuse a smoky, bacon-like flavour making an excellent choice for smoking beef, pork and venison.

The Weber Mesquite Wood Chips are now delivered in a re-sea
SKU: 17625

Code: 17625

UPC: 077924039546

Brand: Weber

Our Price: (£) 6.49

Condition: New

Availability: Out Of Stock

URL: https://www.bbqworld.co.uk/weber-barbecues/accessories/weber-mesquite-wood-chips.asp