WeberŪ Grilling Pans

Product Code: 8306

Unfortunately this product is currently unavailable to purchase - we are not sure when we'll have it back in stock.
Sponsored Links
Product Information
WeberŪ Grilling Pans are ideal for on the go grilling being perfect for vegetables. Use these Grilling Pans to infuse food with the unmistakable flavor of barbecue smoke.
Technical Specification


Disposable Grilling Pans
Pack of 4
Aluminium Foil
Dimensions -
H 4.32 cm x W 20.57 cm x D 21.08 cm

Dimensions

BBQ Dimensions
Height (cm) -
Width (cm) -
Depth (cm) -
Weight (kg) - 0.5

Box Dimensions
Height (cm) - 2.9
Width (cm) - 18.7
Length (cm) - 27

Cooking Area
Width (cm) -
Depth (cm) -
Reviews of the WeberŪ Grilling Pans
Additional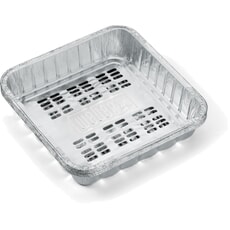 Name: WeberŪ Grilling Pans

Description: WeberŪ Grilling Pans are ideal for on the go grilling being perfect for vegetables. Use these Grilling Pans to infuse food with the unmistakable flavor of barbecue smoke.

SKU: 8306

Code: 8306

UPC: 077924039669

Brand: Weber

URL: https://www.bbqworld.co.uk/weber-barbecues/accessories/weber-grilling-pans.asp

Our Price: (£) 5.84

Condition: New

Availability: